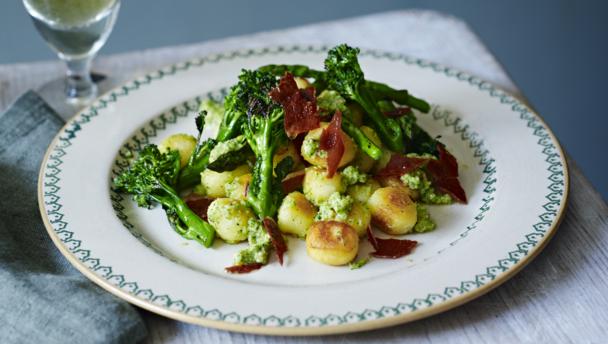 Preparation time
less than 30 mins
Cooking time
less than 10 mins
Fast and tasty green veg – griddled for that smoky taste. The ready-made gnocchi are fried for extra crunch and served with a homemade chilli broccolli pesto.

By Michel Roux Jr.
From Food & Drink
Ingredients
For the pesto
350g/12oz broccoli (about 1 head), roughly chopped
100ml/3½fl oz olive oil, plus extra to loosen if desired
50-100g/2-3½oz toasted pine nuts, to taste
1 garlic clove, roughly chopped
1 green chilli, finely chopped
50g/1¾oz parmesan cheese (or vegetarian alternative), freshly grated
salt and pepper, to taste
For the vegetables
300g/10½oz green vegetables such as asparagus, purple sprouting broccoli, courgettes and baby leeks
olive oil, for drizzling and frying
1 pack shop-bought gnocchi
3 slices pancetta, baked or grilled, to garnish (optional)
Method
Blanch the broccoli in boiling salted water for 3-4 minutes, or until tender. Drain and immediately plunge into ice water to stop it from cooking any further. Drain again and add to a blender with the olive oil, toasted pine nuts, garlic, chilli and a good grating of parmesan cheese. Blend to a paste to make pesto. Taste and season with salt and pepper and add more olive oil if needed to get the consistency you like.
To cook the vegetables, heat a griddle pan to hot. Drizzle the green vegetables with olive oil and cook on a griddle pan. (You can use any vegetables you like for this, but if you choose root veg or anything bigger than asparagus you might need to blanch it first to soften before griddling.)
Heat a good amount of olive oil in a frying pan and tip in the gnocchi straight from the pack. Fry until golden-brown all over, so they look like mini roast potatoes.
Serve up the gnocchi and griddled veg with a good dollop of broccoli pesto. You could also sprinkle over some crumbled pancetta for a crisp, salty garnish.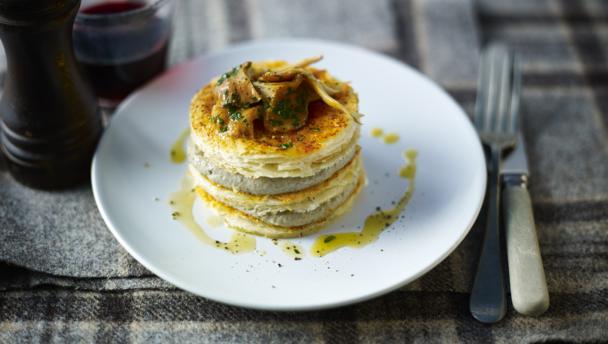 Preparation time
less than 30 mins
Cooking time
10 to 30 mins
A simple mushroom filling is turned into dainty party food using readymade puff pastry.

By Michel Roux Jr.
From Food & Drink
Ingredients
500g/1lb 2oz all-butter puff pastry
pinch of cayenne, paprika or chilli flakes, optional
For the filling
2 shallots, finely chopped
450g/1lb chestnut mushrooms, finely chopped
25g/1oz butter
salt and freshly ground black pepper
small bunch tarragon leaves, chopped
splash of Madeira
200ml/7fl oz double cream
For the garnish
handful girolle mushrooms, chopped
knob of butter
squeeze of lemon juice
small handful chives, chopped, to garnish
Method
Preheat the oven to 180C/350F/Gas 4.
Roll the pastry out into a large rectangle, about 2mm thick. It needs to be large enough so that after baking you can use a biscuit cutter to make 12 circles of about 7.5cm/3in diameter.
Place onto a baking sheet and prick with a fork (you may need to divide the pastry between two baking sheets). Sprinkle with cayenne, paprika or chilli flakes, if using, and put another baking sheet on top to prevent the pastry from puffing up too much as it bakes.
Bake for 20 minutes, or until crisp and golden-brown. Remove the upper tray and set aside to cool.
For the filling, fry the shallots and mushrooms in butter. Season with salt, pepper and the tarragon, followed by a glug of Madeira and the cream. Let it bubble away until reduced in volume by about a third. Transfer to a food processor or blender and blend to a mousse consistency. Spoon into a piping bag fitted with a medium-sized plain nozzle.
For the garnish, fry the girolles in a separate pan with a knob of butter for 2-3 minutes until softened. Finish with a squeeze of lemon juice.
To assemble, cut out twelve circles of pastry using a biscuit cutter. The circles should be about 7.5cm/3in across. Pipe a good amount of the mushroom mousse neatly onto a pastry circle. Top with another circle of pastry and another layer of mousse. Finish with a final circle of pastry and decorate with the girolles and chives. Repeat until you have used up all the pastry circles.
Recommended wine
Try Thorn Clarke, Nebbiolo.