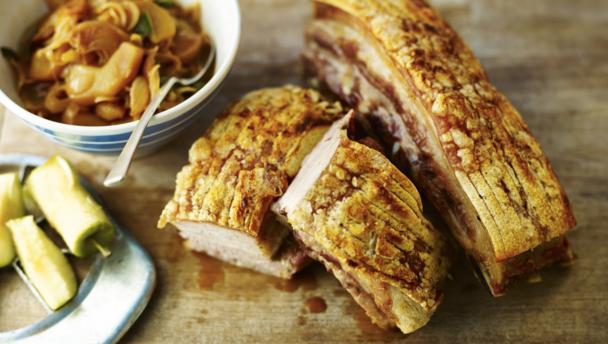 Preparation time
less than 30 mins
Cooking time
over 2 hours
Serves
Serves 4-5

Hairy Bikers recipes
From Hairy Bikers' Best of British
Ingredients
1.5kg/3lb 5oz pork belly, skin scored
2 tbsp finely chopped fresh thyme leaves
2 tsp sea salt flakes
1 tsp coarsely ground black pepper,
3 medium apples, peeled, quartered, cored and cut into thick slices
2 medium onions, sliced
large handful fresh sage leaves
2 tsp plain flour
200ml/7fl oz cider
Method
Preheat the oven to 240C/220C (fan)/Gas 9..

Dry the pork belly skin with kitchen paper. Mix the thyme, sea salt and black pepper together in a bowl. Rub this mixture all of the pork and skin, then turn the belly over and rub it on the underside of the pork.

Place the pork in a flameproof baking tray and roast for 25-30 minutes, or until the skin is crisp. Reduce the oven to 180C/160C (fan)/Gas 4 and roast for a further hour.

Mix the apples with the onions, sage and a little freshly ground black pepper and arrange in the middle of a small roasting tin.

Remove the pork from the oven and place it on top of the apples and onions, keeping the apple and onion pieces underneath the meat so they don't burn. Keep the first roasting tin to one side. Return the pork to the oven and cook for a further hour, or until the meat is really tender.

Skim any fat from the cooking juices in the reserved roasting tin and place the tin over a medium heat. Stir in the flour and cook for a minute or so, stirring constantly. Gradually stir in the cider and l00ml/3½fl oz water and bring to a simmer. Cook for 3-4 minutes, stirring constantly. Strain through a sieve into a small saucepan and season to taste. Set aside.

Transfer the pork to a carving board. Spoon the apple and onion into a warmed serving bowl. Reheat the cider gravy until bubbling and cut the pork into thick slices. Serve the pork and crackling with the apple and sage and the hot gravy.