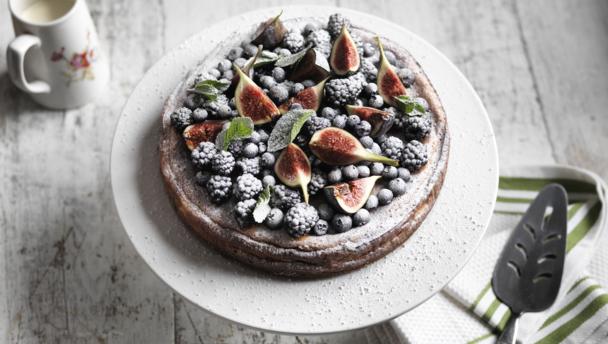 Preparation time
less than 30 mins
Cooking time
30 mins to 1 hour
Recommended by
Previously I have always done no-bake cheesecakes. Partly due to laziness and partly because I was unsure of the taste. But I finally succumbed and this is a stunning cheesecake with so much rich, creamy flavour. I believe I am now a baked cheesecake expert!
Equipment and preparation: you will need a 23cm/9in springform cake tin.

By Lorraine Pascale
From Lorraine Pascale: How to be a Better Cook
Ingredients
For the base
50g/1¾oz unsalted butter, melted
200g/7oz gingernut biscuits (about 20 biscuits)
For the filling
450g/1lb full-fat cream cheese
250g/9oz ricotta
150g/5½oz double cream
3 medium free-range eggs
125g/4½oz caster sugar
2½ tbsp cornflour
1 vanilla pod, seeds scraped out
For the topping
125g/4½oz fresh blueberries
125g/4½oz fresh blackberries
2 figs, each cut into 6 evenly-sized wedges
2 tsp icing sugar, sifted
handful fresh mint leaves (optional)
Method
Preheat the oven to 170C/325F/Gas 3 (150C fan).
To make the base, melt the butter in a medium saucepan over a low heat (or a bowl in the microwave). Line the base of a 23cm/9in springform cake tin with baking parchment, brushing a little of the melted butter on the base to help the paper stick. Break up the gingernut biscuits in a food processor to give fine crumbs. Mix well into the melted butter and then tip into the bottom of the prepared tin. Press the mixture well into the bottom so it is packed tight and level. Place in the fridge to set for 20 minutes or so while you get on with the filling.
For the filling, put the cream cheese, ricotta, cream, eggs, sugar, cornflour and vanilla seeds into a large bowl and beat like mad for a few minutes until everything is combined and smooth. An electric mixer fitted with the whisk attachment will make this easier than by hand. Once the biscuit base is set, remove the tin from the fridge and pour this mixture in on top.
Sit on a baking tray and pop into the oven for 40-45 minutes. The cheesecake should be just set with a little wobble. When it reaches this stage, turn off the oven and leave to cool in there for about an hour. This (usually) stops the cheesecake from cracking. Also avoid moving the cheesecake around at this stage to help prevent cracking. However, don't worry if it does crack as it will still taste delicious and will be nicely decorated.
Once it has had an hour of cooling, remove the cheesecake from the oven. The cheesecake may still be a little bit warm, so you can either eat it like this or wait and eat it when it is completely cool. Arrange the berries and figs on top, dust with icing sugar and scatter over the mint leaves if using, and serve. The cheesecake will keep for a couple of days, covered in the fridge.
Share this post