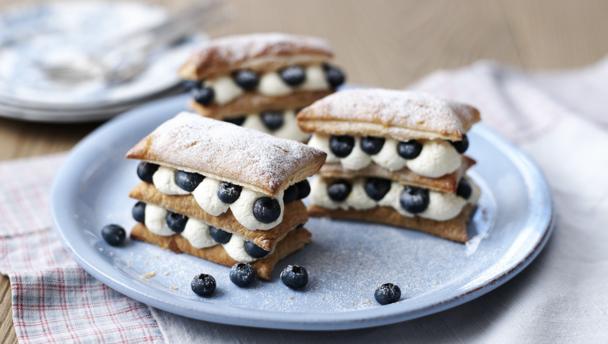 Preparation time
less than 30 mins
Cooking time
10 to 30 mins
Lorraine Pascale's elegant dinner-party dessert recipe is made with shop-bought puff pastry for simplicity.
Equipment and preparation: You will need a piping bag fitted with a 1cm/¼in straight nozzle.

By Lorraine Pascale
From Baking Made Easy
Ingredients
115g/4oz icing sugar, plus extra for dusting
250g/9oz shop-bought puff pastry
200g/7oz (or 1 punnet) blueberries
For the sweetened cream
165ml/5½fl oz whipping cream
25g/1oz icing sugar
1 vanilla pod, seeds only (or alternatively 2 drops of vanilla extract)
1 lemon, finely grated zest and a squeeze of the juice
Method
Line a large baking tray with greaseproof paper. Dust the work surface with lots of icing sugar and roll out the pastry to a rectangle just larger than 27 x 30cm/10½ x 12in, trimming the edges straight. It should be super thin, as thin as you can get it, without stretching the pastry.
Cut out 18 rectangles about 9cm/3½in long and 5cm/2in wide and place them on the prepared baking tray. Sprinkle with lots of icing sugar and put in the fridge for 30 minutes.
Preheat the oven to 200C/400F/Gas 6.
Remove the pastry from the fridge and bake in the oven for five minutes, then remove from the oven and sprinkle the pastry with more icing sugar. Return to the oven and bake for a further five minutes, or until the pastry turns golden-brown. Remove from the oven and set aside.
For the sweetened cream, put the cream, icing sugar and vanilla in a large bowl and whip until medium-stiff peaks form when the whisk is removed from the bowl. Fold in the lemon zest and juice, to taste, then scoop the mixture into a piping bag fitted with a 1cm/½in straight nozzle.
Place one of the pastry thins on a serving plate. Pipe blobs of cream over the pastry and put the blueberries between the cream, then put another pastry thin on top and repeat with one more layer. Sprinkle the top layer with more icing sugar and repeat until all the pastry and cream is used up.
Share this post