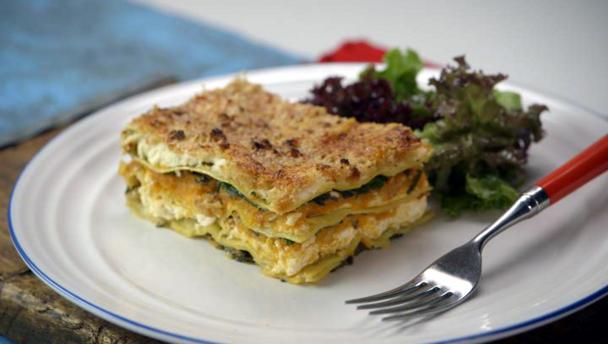 Preparation time
less than 30 mins
Cooking time
30 mins to 1 hour
This is one of my stalwart recipes that used to only make an appearance when there was a vegetarian over at my house. But then the family began to fall in love with the soft wintry flavours and that creamy white sauce. This white sauce is a shortcut white sauce, everything just gets put in a bowl and stirred, very, very simple and just as tasty as the traditional white sauce.

By Lorraine Pascale
From Lorraine's Fast, Fresh and Easy Food
Ingredients
50g/2oz parmesan (or a vegetarian alternative)
50g/2oz dried natural breadcrumbs
600g/1lb 5oz prepared sweet potato and butternut squash
pinch salt
4 sprigs rosemary
12 sage leaves
drizzle olive oil
12 lasagne sheets
75g/3oz baby spinach leaves
100g/3½oz toasted pine nuts (some supermarkets sell them toasted)
For the white sauce
100g/3½oz parmesan (or a vegetarian alternative)
2cm/¾in piece of fresh ginger
600g/1lb 5oz ricotta
2 free-range eggs, yolks only
pinch freshly grated nutmeg
salt and freshly ground black pepper
For the salad
3 tbsp extra virgin olive oil
1 tbsp balsamic vinegar
pinch English mustard powder (optional)
salt and freshly ground black pepper
80g/2oz wild rocket
Method
Preheat the oven to 220C/425F/Gas 7.
Put the kettle on to boil for the vegetables.
Meanwhile, finely grate the parmesan for the topping, toss in a small bowl with the breadcrumbs and set aside.
When the kettle has boiled, tip the prepared sweet potato and butternut squash into a large pan, add a little salt and then pour the boiled water over to cover. Put the lid on, bring back to the boil and then leave to bubble away for 15-20 minutes until tender.
Fill the kettle up with water again and pop it back on to boil while you quickly prepare the herbs for later. Run your fingers down the length of the rosemary stalks to release the leaves and roughly chop them with the sage leaves and set aside in a small bowl.
Pour the boiled water into a large pan, add a drizzle of oil, slip in the lasagne sheets and leave to cook for five minutes. (As there is not loads of liquid in this dish the lasagne sheets do need a bit of precooking).
In the meantime, prepare the sauce. Finely grate the parmesan and peel and grate the ginger. Place both into a medium bowl, add the ricotta, egg yolks, pinch of nutmeg, salt and pepper, stir to combine and set aside.
Drain the lasagne sheets once they've had their time and tip them back into the pan. Drizzle in a little more oil and gently toss them about to coat, so that the sheets don't stick together.
Check that the vegetables are now nice and tender. Drain well and tip them back into the pan. Mash them with a masher until smooth and add salt and pepper to taste.
Now assemble the lasagne in a baking dish, set on a baking tray. Spread a third of the vegetable mash in the base of the dish. Next, scatter a third of the herbs, pine nuts and spinach leaves over. Then arrange four lasagne sheets on top, cutting to fit if necessary. Spread a third of the white sauce over.
Repeat this two more times giving you three layers and finally sprinkle the parmesan breadcrumbs on top. Bake for 15-20 minutes.
Prepare the salad dressing by simply mixing the olive oil, balsamic vinegar, mustard powder (if using) and seasoning together in a small bowl.
When the lasagne is ready, the pasta will feel tender when pierced through with a knife and the top will be crisp and golden-brown.
Cut it into portions, carefully lift out and serve with a handful of rocket drizzled with the dressing.
Recipe Tips
If you can't find pre-toasted pine nuts in the supermarket, toast them yourself in a dry frying pan over a medium heat. It only takes a few minutes; shake the pan occasionally to move the nuts around until you get an even golden brown colour.
Share this post