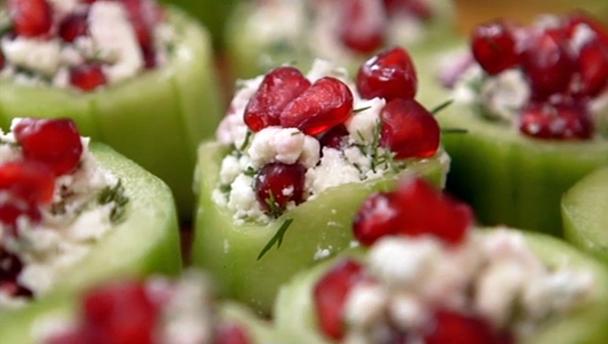 Preparation time
less than 30 mins
Cooking time
These light bites make great canapés for summer parties – and they're ready in a flash.
Each canapé provides 14 kcal, 0.8g protein, 0.7g carbohydrate (of which 0.6g sugars), 0.9g fat (of which 0.5g saturates), 0.2g fibre and 0.1g salt per portion.

By Lorraine Pascale
From Lorraine Pascale: How to be a Better Cook
Ingredients
1 cucumber
75g/2½oz feta cheese, drained
1 tbsp chopped fresh dill
¼ tsp freshly ground black pepper
3 tbsp pomegranate seeds
Method
Top, tail and then peel the cucumber. Cut into 1.5-2cm/¾in thick slices to give about 16-18 in total. Using a melon baller, small teaspoon or a ¼ teaspoon measuring spoon, scoop out enough of the seeds from the middle to give a cup that has a border about 5mm thick, making sure you don't go right down to the bottom. Arrange them on a large platter and set aside.
Break the feta cheese into a small bowl and mash it with a fork until as smooth as possible. Add the dill and season with the pepper (but no salt as feta is already salty), stirring everything together well. Divide the feta cheese mixture between the cucumber cups. Arrange a little pile of pomegranate seeds on top of each one and serve.
Share this post