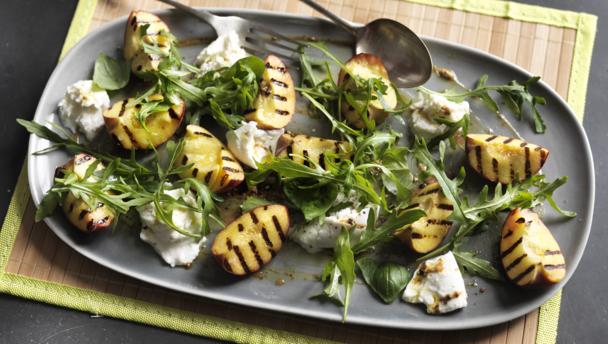 Preparation time
less than 30 mins
Cooking time
10 to 30 mins
Recommended by
Buratta is becoming increasingly popular in restaurants and is an insanely decadent cheese – made from mozzarella and cream wrapped in more mozzarella. Parma ham would be a nice addition to this if you fancied it.

By Lorraine Pascale
From Lorraine Pascale: How to be a Better Cook
Ingredients
For the dressing
3 tbsp extra virgin olive oil
1 tbsp balsamic vinegar (not a syrupy one)
1 tsp Dijon mustard
flaked sea salt and freshly ground black pepper
For the peaches
2 tsp olive oil
4 peaches, almost ripe but not too soft, quartered and stoned
To serve
200g/7oz ball burrata, drained and torn into chunks (or 2 x 125g/4½oz balls mozzarella)
70g/2½oz bag rocket
1 bunch of basil, leaves only, roughly torn
Method
For the dressing, lightly whisk all the ingredients together in a small bowl. Season to taste and set aside.
For the peaches, lightly grease a griddle pan or barbecue with the oil and then get it nice and hot. You may have to work in batches, depending on the size of your pan. Place the peach quarters, cut-side down on the griddle pan or barbecue for 1-2 minutes to give a nice chargrilled mark on them.
Use a metal fish slice to help lift them up so as not to leave the chargrilled marks behind. Turn them onto their other cut side for another minute (don't cook on their skin side). The charring will add to the flavour. You can also use a frying pan to cook them, but obviously you won't get the char-grilled lines on them. Sit the peaches cut side up on a large serving platter as you go.
Arrange the buratta chunks (or mozzarella) around the peaches and scatter the rocket and basil leaves over. Scatter a little salt and pepper on top. Quickly whisk up the dressing again if necessary, drizzle it over and serve.
Share this post