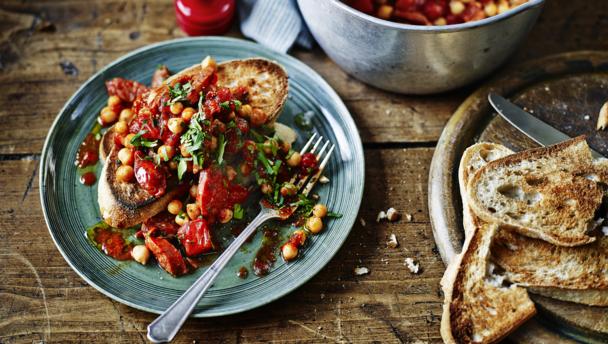 Preparation time
less than 30 mins
Cooking time
less than 10 mins
Recommended by
This quick and easy chorizo topping is a fantastic alternative to good old baked beans when piled onto hot toast.
This meal provides 322 kcal, 18g protein, 32g carbohydrate (of which 5g sugars), 14g fat (of which 5g saturates), 5g fibre and 1.7g salt per portion.

By Lorraine Pascale
From The Hairy Bikers and Lorraine Pascale: Cooking the Nation's Favourite Food
Ingredients
100g/3½oz cooking chorizo, diced
200g/7oz tinned chickpeas, drained and rinsed
200g/7oz tinned chopped tomatoes
1 tbsp chopped fresh thyme leaves
salt and freshly ground black pepper
To serve
2 slices toast
1 tbsp chopped fresh parsley leaves
Method
Place a saucepan over a medium heat. When the pan is hot, add the chorizo and fry for 1-2 minutes, or until starting to crisp.
Add the drained chickpeas and tinned tomatoes, then stir in the thyme. Season, to taste, with salt and freshly ground black pepper. Simmer for 4-5 minutes, or until the sauce has warmed through and thickened to your liking.
To serve, spoon the chickpea mixture on top of the toast and garnish with parsley.
Share this post