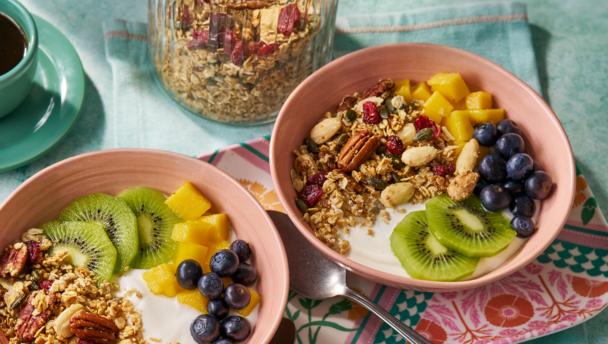 Preparation time
less than 30 mins
Cooking time
10 to 30 mins
Serves
Makes 1.3kg/3lb of granola
Nutty, fruity wholesome goodness is a must for oat lovers. Please feel free to ad lib here, with substitutions such as honey for maple syrup, raisins, apricots or dried apples for the dried cranberries and cashews for the whole almonds.

By Lorraine Pascale
From Lorraine's Fast, Fresh and Easy Food
Ingredients
125ml/4fl oz maple syrup
25g/1oz caster sugar
25ml/1fl oz sunflower oil
½ tsp vanilla extract
500g/1lb 2oz jumbo rolled oats
175g/6oz mixed seeds (like pumpkin, sunflower, sesame or linseeds)
150g/5oz pecans (or walnuts)
50g/2oz whole almonds
25g/1oz flaked almonds
75g/2¾oz desiccated coconut
pinch of salt (optional)
2 tsp cinnamon (optional)
150g/5½oz dried cranberries
Method
Preheat the oven to 170C/325F/Gas 3. Line two large roasting trays with parchment paper and set aside.
Put the maple syrup, sugar, oil and vanilla extract into a large bowl and mix well. Then toss in the oats, mixed seeds, pecans (or walnuts), whole almonds, flaked almonds, coconut and salt and cinnamon (if using). Give it a good stir and then get your hands in, picking it up and letting it fall down to coat and moisten everything really well.
Pour the mixture onto the roasting trays and spread it out evenly. Bake in the oven for about 15 minutes, giving it a good stir and swapping them about on their shelves half way through.
The granola should be golden-brown when cooked. Remove and leave to cool completely before stirring the cranberries through. Store in an airtight container for up to a month.
Share this post