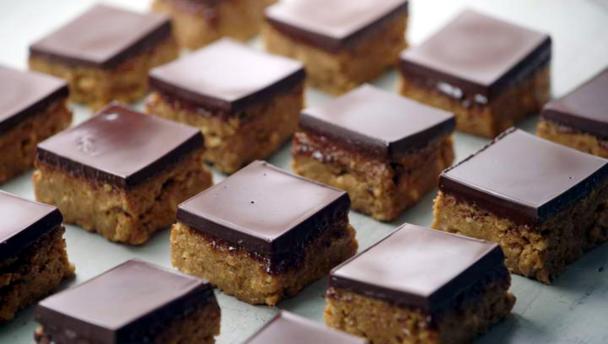 Preparation time
less than 30 mins
Cooking time
10 to 30 mins
I was recipe testing some millionaire's shortbread and found I did not have enough of the correct ingredients. A family-sized pot of crunchy peanut butter sat almost full at the back of my cupboard, providing me with some nutty inspiration for these peanut butter squares.

By Lorraine Pascale
From Lorraine's Fast, Fresh and Easy Food
Ingredients
150g/5½oz butter
200g/7oz dark chocolate (at least 60% cocoa solids) or milk chocolate (or a mixture of both)
250g/9oz digestive biscuits
200g/7oz soft light brown sugar
300g/10½oz crunchy peanut butter
1 tsp vanilla extract
Method
Line a 20cm/8in square tin with baking parchment, leaving some excess paper hanging over the edges (this makes it easier to lift out once set).
Melt the butter in a large pan over a low heat.
Snap the chocolate into squares and throw into a small bowl. Melt in the microwave in 30 second blasts, stirring well between each addition or sit the bowl over a pan over simmering water. Make sure that the bottom of the pan does not touch the water or the chocolate may 'seize' and go really grainy and stiff.
Blitz the digestive biscuits and brown sugar in a blender or food processor to give fine crumbs. Tip them into the melted butter. Stir in the peanut butter and vanilla extract and mix together so everything is well combined.
Tip the mixture into the lined tin and press it down really hard with the back of the spoon. It needs to be really compact and tight. Then pour over the melted chocolate, tilting the tin back and forth a bit so that the whole thing is evenly covered. Pop in the freezer for 30 minutes to firm up (or the fridge for an hour).
Once the chocolate is set, remove it from the freezer (or fridge). Lift it out of the tin with the help of the baking parchment. Remove the paper and then use a sharp knife to divide it into 16 squares and serve.
Recipe Tips
These will last for a few days in an airtight container.