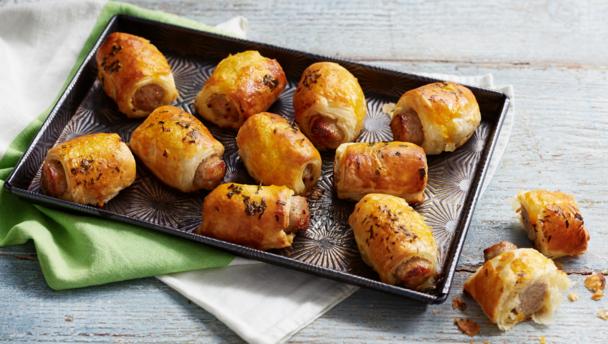 Preparation time
less than 30 mins
Cooking time
10 to 30 mins
I make these often – sometimes the sausage shoots rather rudely out of its skin, sometimes it doesn't. To guarantee your sausage does not escape its roll during cooking, the sausage 'skin' can be slipped off before encasing it in pastry.

By Lorraine Pascale
From Baking Made Easy
Ingredients
500g/1lb 2oz ready-made puff pastry
plain flour, for dusting
1 free-range egg, beaten
8 herby sausages (the best you can afford), cut in two
salt and freshly ground black pepper
small handful fresh thyme leaves
Method
Preheat the oven to 200C/400F/Gas 6.
Roll the pastry out on a floured surface to a rectangle of about 48x32cm/19×12½in and bash the pastry with the rolling pin a bit. Puff pastry is made of fine layers and normally you have to be very delicate with it. For sausage rolls the pastry needs to be slightly puffed, but not too much, so bashing it with a rolling pin reduces the amount it puffs up.
Cut the large rectangle in half lengthways, then cut both smaller rectangles into eight equal sections. You now have 16 rectangles in total. Brush one end of each rectangle with a little of the beaten egg, lay a piece of sausage at the other end, then season the sausage with salt and freshly ground black pepper and sprinkle with thyme leaves. Roll the sausage up in the pastry to enclose and repeat with all the sausages. Put the sausage rolls in the fridge for 20 minutes for the pastry to harden.
Once the pastry is hard, remove the sausage rolls from the fridge and score the tops with a sharp knife for decoration, or prick with a fork. Brush well all over with the rest of the beaten egg and bake in the oven for 25–30 minutes, or until the pastry has turned golden-brown and looks crisp. Remove from the oven and leave to cool slightly before serving.
Recipe Tips
Instead of thyme leaves, add chopped sage, parsley or rosemary.
Share this post