White chocolate bite-sized 'Napoleons'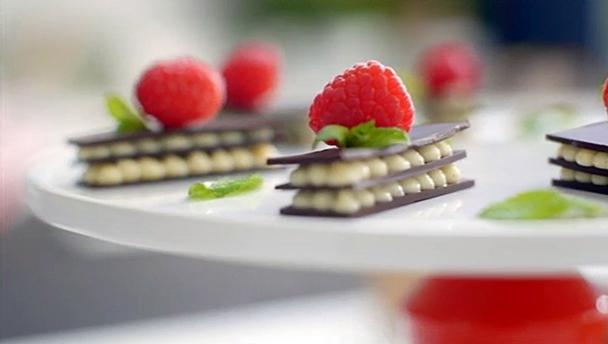 Preparation time
1-2 hours
Cooking time
10 to 30 mins
These dainty squares of chocolatey perfection are great for parties as everything can be made well in advance.
Equipment and preparation: you will need a piping bag fitted with a 0.25cm plain nozzle (if you have difficulty finding this sized nozzle, then simply cut the correct sized opening in a disposable piping bag).

By Lorraine Pascale
From Lorraine Pascale: How to be a Better Cook
Ingredients
For the crème pâtissière
300ml/10½fl oz milk
4 free-range egg yolks
90g/3¼oz caster sugar
1 tbsp plain flour
1 tbsp cornflour
1 vanilla pod, seeds only
For the chocolate layers
400g/14oz milk, dark or white chocolate
To decorate
24 raspberries
24 tiny mint sprigs
Method
For the crème pâtissière, place the milk in a medium, wide pan on a medium heat and bring just to the boil. Meanwhile, beat together the egg yolks and sugar until combined. Mix in the plain flour, cornflour and the vanilla seeds until smooth and well blended.
Remove the almost boiling milk from the heat and pour half onto the egg mixture while constantly whisking to avoid lumps. Pour this mixture into the remaining milk in the pan and return to a low heat. Whisk constantly until it returns to the boil, at which point it will be really thick and smooth. This should take about 6-8 minutes. Remove from the heat, press cling film down onto the surface of the custard to prevent a skin from forming and set aside until cool. Pop in the fridge until completely cold and really firm.
Meanwhile, prepare the chocolate shards. Cut out two 23x25cm/9x10in pieces of baking parchment and sit each on a baking tray. Break the chocolate into a medium bowl and either melt sitting on top of a pan of simmering water (without allowing the bowl and water to touch) or in 30 second blasts in the microwave, stirring between each go. Once melted, stir until smooth and divide the chocolate evenly between the centre of each piece of paper. Pop a tiny dot of melted chocolate under each corner of the papers to stick them to the baking trays and prevent the paper from moving about. With a palette knife, spread the chocolate all over the papers right out to the edges in a smooth even layer. Try and get the edges as straight as possible. Pop both in the fridge for 30 minutes or until set firm.
Once firm, remove the set chocolate from the fridge. Dip a long sharp knife into really hot water and wipe dry. Run the knife under one of the pieces of paper to release it from the tray and then cut this chocolate into 36 rectangles each 2.5x6cm/1×2½in. To do this, cut down the length into four 6cm/2½in wide strips and then across the width into nine 2.5cm/1in wide pieces. Carefully peel each one from the backing paper and lay on a clean board. Trim any ragged edges to neaten the rectangles up.
Repeat with the second tray of set chocolate to give 72 rectangles in total. If they feel like they are getting too soft at any point, return them to the fridge until hardened. Likewise, if they are shattering when being cut, it means they are too hard and brittle and so leave them to warm to room temperature before continuing. Any broken ones can be used in the middle of the stack later and nobody will know! Return the rectangles to the fridge until needed. Everything can be prepared to this point up to 24 hours in advance and then assembled just before serving.
Once cool, put the crème pâtissière into a piping bag fitted with a 0.25cm plain nozzle. If you have difficulty finding this size nozzle, then simply cut this size opening in a disposable piping bag. Lay out 48 of the chocolate rectangles and pipe the crème patisserie onto these in three rows of seven tiny dots. Carefully stack one of these rectangles on top of another and then top with one of the plain chocolate rectangles. There will be three layers of chocolate and two layers of the crème pâtissière.
To finish, pipe a small dot of the remaining crème pâtissière on the top centre of the napoleon and sit a raspberry on top to stick. Decorate with a mint sprig and arrange on a serving platter or cake stand. Repeat with the remaining ingredients to make 24 in total. Serve at once.