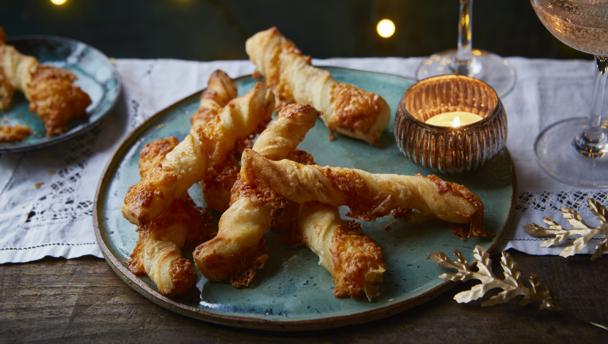 Preparation time
less than 30 mins
Cooking time
10 to 30 mins
Michel Roux Jr's easy cheese straws are perfect for starting a dinner party – just add a cold glass of fizz.

By Michel Roux Jr.
From Good Food Friday with Michel Roux Jr and Olly Smith
Ingredients
300g/10½ oz all-butter puff pastry
4 egg yolks, beaten with a splash of water
150g/5½ oz cheddar, grated
paprika, for sprinkling
Method
Preheat the oven to 200C/180C Fan/Gas 6. Line two baking sheets with baking parchment or greaseproof paper.
Roll out the pastry to a 30cm/12in square.
Using a pastry brush, brush the egg mixture all over the pastry. Sprinkle over the cheese and press down lightly. Cover with cling film and chill the dough in the fridge for 15 minutes.
Sprinkle the cheese with paprika, cut in half, then cut each half into 1cm/½in strips.
Twist each strip into a cheese straw shape and place onto the lined baking sheet.
Bake for 15 minutes, or until golden-brown and crisp.
Share this post