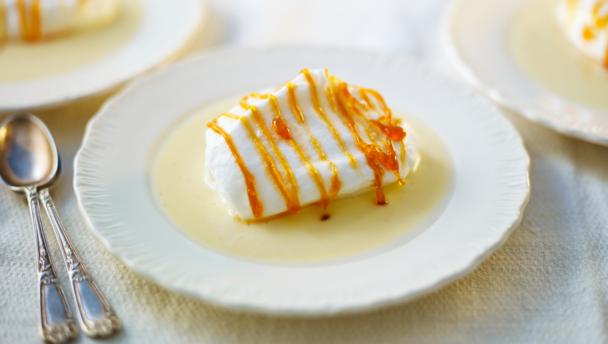 Preparation time
less than 30 mins
Cooking time
10 to 30 mins
My favourite dessert as a child and one that was made as a real treat was oeufs à la neige, floating islands. The smell of caramel cooking always brings back childhood memories.

By Michel Roux Jr.
From Food & Drink
Ingredients
For the crème anglaise
750ml/1⅓ pint milk
1 vanilla pod, seeds only
8 free-range egg yolks
190g/7oz caster sugar
For the poaching liquor
500ml/18fl oz milk
1 tbsp caster sugar
For the meringue
8 free-range egg whites
190g/7oz caster sugar
For the caramel
Method
For the crème anglaise, heat the milk and vanilla seeds in a saucepan over a medium heat. Simmer for 4-5 minutes.
Whisk together the egg yolks and sugar in a mixing bowl.
Pour the hot milk mixture onto the eggs and sugar, a little at a time, so the eggs do not start to cook, whisking continuously until smooth and creamy.
Return the mixture to the saucepan and place the pan over a medium heat and stir continuously for 4-5 minutes, or until the mixture has thickened enough to coat the back of a spoon.
Strain the mixture through a sieve into a bowl, leave to cool and then refrigerate.
For the poaching liquor, combine the milk and 500ml/18fl oz water with the sugar in a saucepan, stirring to dissolve the sugar.
For the meringue, using an electric hand whisk, whisk the whites in a bowl until stiff peaks form when the whisk is removed, but the mixture should not look too dry. Add one tablespoon of the sugar to the egg whites, and continue to whisk until the mixture comes back to stiff peaks. Add the sugar one tablespoon at a time until it has all been used, and the meringue is thick and glossy.
Using a serving spoon dipped in cold water, shape big quenelles of the meringue and gently poach in the milk and water solution, turning after 4-5 minutes to ensure they are cooked on both sides. Make sure the liquid doesn't boil or the meringues will puff then collapse. When fully cooked, gently place on a wire rack to drain.
For the caramel, pour the sugar into a clean pan. Melt the sugar slowly, stirring with a wooden spoon over a low heat until the sugar turns a dark copper colour. Remove immediately from the heat to ensure the caramel does not burn.
Pour the caramel over the meringues. When set, take the caramel-covered meringues off the tray and serve in a generous pool of the crème anglaise.
Recommended wine
Louis Roederer demi sec champagne; Billecart-Salmon, demi sec champagne; Domaine de Durban, Muscat de Beaumes-de-Venise 2009.
Share this post