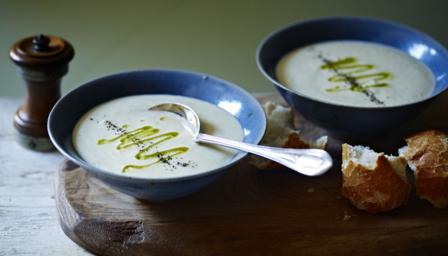 This rich and creamy cauliflower soup is just the ticket on a chilly day – and it's inexpensive too.
Ingredients
For the cauliflower soup

1 tbsp olive oil
1 onion, finely chopped
1 garlic clove, finely chopped
1 tsp ground cumin
1 tsp ground coriander
800g/1¾lb cauliflower florets, roughly chopped
1 litre/1¾ pints chicken or vegetable stock
150ml/5fl oz double cream
Preparation method
For the cauliflower soup, heat the oil in a deep, heavy-based pan over a medium heat. Add the onion and garlic and fry for 2-3 minutes, or until just softened.

Add the ground cumin and ground coriander and fry for a further 1-2 minutes, or until fragrant.

Add the chopped cauliflower and chicken stock. Bring the mixture to the boil, then reduce the heat and simmer for 8-12 minutes, or until the cauliflower is tender. Remove from the heat and set aside to cool.

Carefully pour the soup mixture into a food processor and blend to a purée (or alternatively, use a stick blender in the saucepan). Return the puréed soup mixture to the pan and add the cream. Season, to taste, with salt and freshly ground black pepper and warm through for 1-2 minutes.

To serve, divide the cauliflower soup equally among four serving bowls. Serve with crusty bread and butter.
Required techniques
Less than 30 mins

preparation time
30 mins to 1 hour

cooking time
Serves 4