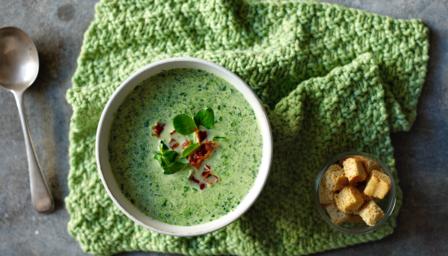 This delicate, creamy soup is perfect for a spring day and works well served hot or chilled.
Ingredients
100g/3½oz flatleaf parsley
400g/14oz fresh watercress
50g/2oz butter
1 shallot, peeled, chopped
2-3 garlic cloves, peeled, chopped
400g/14oz frozen peas (shelled weight)
1 litre/1¾ pints hot vegetable stock
100ml/3½fl oz double cream
salt and freshly ground black pepper

To garnish

handful fresh pea shoots
handful baby watercress
2 handfuls croûtons (optional)
2 rashers cooked streaky bacon, crumbled (optional)
drizzle olive oil
Preparation method
Heat half of the butter in a frying pan over a medium heat. Add the shallot, garlic and fry gently until softened – about 3-4 minutes. Add the watercress, peas, parsley and hot stock or water, bring the mixture to the boil, then reduce the heat until the mixture is simmering and continue to simmer for three minutes, or until the peas are bright green and just tender.

Pour in the cream, then blend thoroughly using a hand-held blender. Season, to taste, with salt and freshly ground black pepper, then stir in the remaining butter until melted.

Divide the soup equally among four serving bowls and garnish with the pea shoots, baby watercress, croûtons and crisp bacon pieces. Finish with a drizzle of olive oil. Serve immediately.
Less than 30 mins

preparation time
Less than 10 mins

cooking time
Serves 4