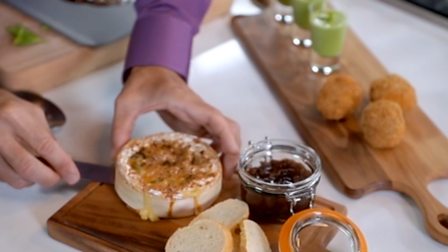 Preparation time
less than 30 mins
Cooking time
30 mins to 1 hour
Baked cheese and pickle, mini-Scotch eggs and pea and mint soup make a tempting trio of British tapas.

By Michel Roux Jr.
From Food & Drink
Ingredients
For the baked cheese and pickle
1 camembert-style cheese such as Tunworth
1 sprig rosemary
1 tbsp clear honey
freshly ground black pepper
slices of baguette
shop-bought pickle or chutney
For the mini Scotch eggs
8 quails' eggs, at room temperature
malt vinegar (enough to fill a small bowl)
200g/7oz pork mince
a few leaves fresh sage, chopped
½ tsp salt
½ tsp freshly ground black pepper
1 free-range egg, beaten
plain flour, for dusting
100g/3½oz panko Japanese breadcrumbs
vegetable oil, for deep frying
brown sauce, to serve
For the pea and mint soup
4 springs fresh mint, plus extra for garnish
250g/9oz frozen peas
1 tbsp crème fraîche
salt and pepper, to taste
Method
For the baked cheese and pickle, preheat the oven to 180C/350F/Gas 4. Take the plastic wrapper off the cheese and place it back in its box, or create a tin foil package for it to sit in.
Pierce the top of the cheese with a small, sharp knife. Push a few rosemary leaves into each hole, drizzle with honey and sprinkle with freshly ground black pepper. Bake for 15-20 minutes, or until the top is golden-brown and the cheese is bubbling up through the cracks. Serve with slices of baguette and shop-bought pickle.
For the mini Scotch eggs, carefully place the quails' eggs into a pan of boiling water and cook for two minutes. Remove from the pan straight into a bowl of iced water to stop them cooking further.
Transfer the eggs to a bowl of malt vinegar to soak for around 10 minutes – this will make the shells easier to peel
Meanwhile combine the mince, sage, salt and pepper in a bowl and set aside.
Crack the egg into a bowl and beat. Place a few tablespoons of plain flour in another bowl and the breadcrumbs in a third bowl.
Carefully peel the quails' eggs. Roll them in flour and then mold a quarter of the meat mixture around each egg. Dip them in the beaten egg and then coat with the panko breadcrumbs. Place the prepared Scotch eggs in the fridge while you heat up the vegetable oil for frying.
Fill a heavy-bottomed sauce pan with about 8cm/3in of vegetable oil and set over a medium heat. To test if the oil is ready, drop a pinch of breadcrumbs in. they should immediately sizzle and rise to the surface (CAUTION: hot oil is dangerous. Do not leave unattended.)
Remove the Scotch eggs from the fridge and carefully lower into the oil using a slotted spoon. Fry for 3-4 minutes, or until golden-brown all over. Remove from the oil with the slotted spoon to a plate lined with kitchen paper to soak up any excess oil. Serve with brown sauce.
For the pea and mint soup, pick the leaves off the sprigs of mint and set aside. Place the peas in a saucepan with the mint stalks and pour in just enough to water to cover them. Season with salt and bring to the boil. Cook for three minutes, or until the peas are tender. Drain and set aside a few of the peas to garnish.
Add the peas to a blender with a splash of the cooking liquid, the mint leaves, crème fraîche and black pepper. Blend until smooth and taste for seasoning. Serve in small glasses with a few peas in the bottom and a leaf of mint on top.
Recommended wine
Orchard Pig, Truffler Dry Sparkling Cider