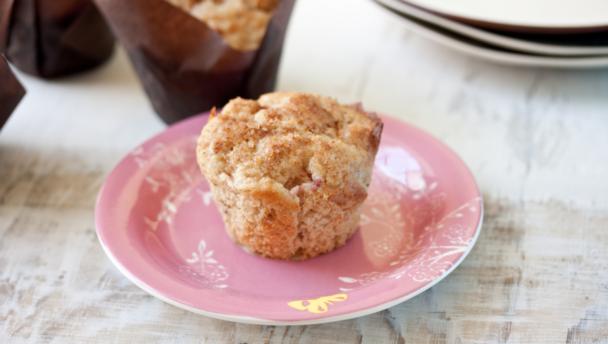 Preparation time
less than 30 mins
Cooking time
10 to 30 mins
Serves
Makes 12 muffins
By Jo Brewer
From Hairy Bikers' Meals on Wheels
Ingredients
6 tbsp sunflower oil
200g/7oz soft brown sugar
1 free-range egg, beaten
250ml/9fl oz buttermilk
1½ tsp vanilla extract
85g/3oz rhubarb, cut into 1cm/½in pieces
85g/3oz apple, peeled, cored and diced
55g/2oz walnuts, chopped
1 tbsp baking powder
250g/9oz plain flour, sifted
55g/1oz oat bran
For the topping
1 tbsp demerara sugar
¼ tsp ground cinnamon
¼ tsp ground nutmeg
Method
Preheat the oven to 180C/350F/Gas 4. Line 12 muffin tins with paper cases.

In a large bowl, mix together the oil, brown sugar, egg, buttermilk and vanilla. Fold in the rhubarb, apple, walnuts, baking powder, flour and oat bran, then spoon the mixture into the cases.

Mix together the demerara sugar, cinnamon and nutmeg and sprinkle over the muffins. Bake in the oven for 20-25 minutes until golden brown and springy to the touch.