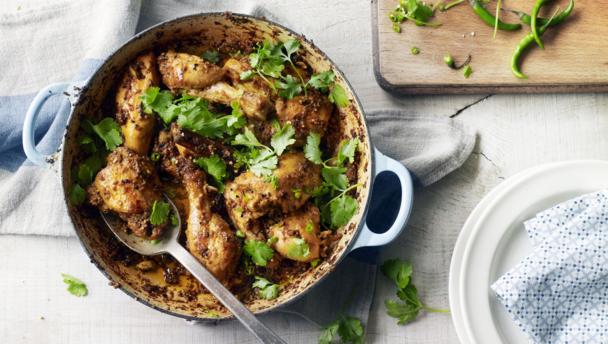 Preparation time
less than 30 mins
Cooking time
30 mins to 1 hour
Serves
Serves 4

Hairy Bikers recipes
From Hairy Bikers – Chicken & Egg
Ingredients
1kg/2lb 4oz chicken pieces, bone-in, skinned
1 tsp salt
For the marinade
½ lemon, juice only
½ tsp chilli powder
½ tsp ground turmeric
1 tsp mustard oil
For the garlic and ginger paste
1 large onion, chopped
4 garlic cloves, grated
5cm/2in piece fresh root ginger, grated
For the mustard paste
2 tbsp yellow or brown mustard seeds, soaked for 30 minutes, drained
2 green chillies, trimmed
For the curry
1 tbsp mustard oil
½ tsp nigella seeds
2 black cardamom pods, crushed
3cm/1¼in piece cinnamon stick
4 cloves
2 green chillies, slit lengthways
green chillies, thinly sliced, to serve
1 bunch fresh coriander leaves, to serve
Method
Put the chicken in a bowl and season with a teaspoon of salt. Add the lemon juice, chilli powder, turmeric and oil. Rub everything into the chicken and then leave to marinate in the fridge for 10 minutes while you make the pastes.

For the garlic and ginger paste, put the onion, garlic, ginger and a splash of water in a food processor and blitz until fairly smooth. For the mustard paste, put the mustard seeds and chillies in a food processor and blitz with just enough water to make a paste.

For the curry, heat the mustard oil in a large frying pan. When hot, add all the whole spices and cook until the nigella seeds start to splutter. Immediately add the garlic and ginger paste and cook for a few minutes, until the paste starts to separate.

Add the chicken and turn so it is well coated with the paste and spices. Cook over a medium heat for 15 minutes, turning the chicken regularly.

Add the mustard paste and 300ml/10fl oz water. Simmer until the sauce is thick enough to coat the chicken and the chicken is cooked through. Serve garnished with the green chillies and coriander.