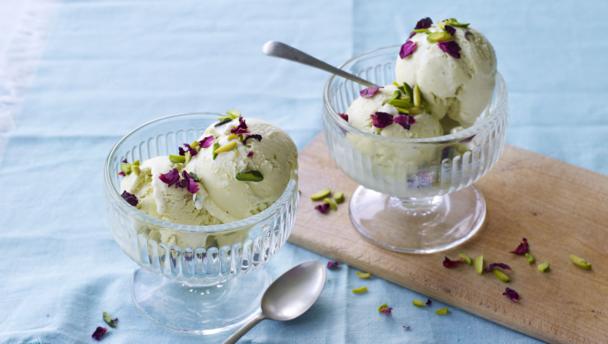 Preparation time
overnight
Cooking time
1 to 2 hours

Hairy Bikers recipes
From Hairy Bikers – Chicken & Egg
Ingredients
200g/7oz pistachios
600ml/20fl oz milk
75g/2½oz caster sugar
6 free-range egg yolks
300ml/10fl oz double cream
1–3 tsp rose water
candied rose petals, to serve
Method
Lightly toast the pistachios in a large frying pan over a medium heat for 1–2 minutes. Leave to cool, then grind them as finely as possible.

Put the milk in a saucepan and heat. Add and 40g/1½oz sugar and heat until it has dissolved. Stir in the ground pistachios and allow the milk to come almost to the boil. Remove from the heat, cover, and leave to infuse for at least an hour, or overnight in the fridge if you can.

Strain the milk and pistachio mixture thoroughly, then reheat again to just below boiling point.

Put the egg yolks and remaining sugar in a bowl and whisk until light and mousse-like. Pour the infused milk over the yolks, stirring, then pour back into the saucepan. Stir on a very low heat until you have a fairly thin custard. If you are worried about the mixture curdling, you can set it in a bowl over simmering water instead.

Remove the custard from the heat and leave to cool. Cover and chill thoroughly, then pour in the cream. Mix, then gradually add the rose water, tasting as you go.

Churn in an ice cream maker, then freeze, covered, for 2 hours. If you don't have an ice cream maker, freeze the ice cream mixture, whisking regularly, until it is too hard to work. Serve with the candied rose petals.