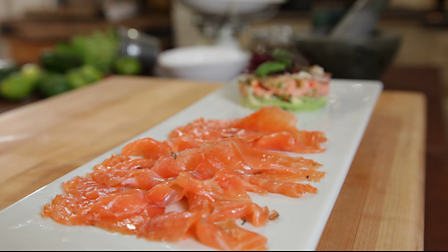 Preparation time
overnight
Cooking time
no cooking required
Serves
Serves 12

Hairy Bikers recipes
From Hairy Bikers Everyday Gourmets
Ingredients
2 x 1kg/2lb 4oz centre-cut pieces salmon, skin on, pin-bones removed
400g/14oz coarse sea salt
100g/3½oz light muscovado sugar
150g/5¼oz granulated sugar
1 tbsp dill seeds
1 tbsp coriander seeds
1 tbsp cracked black pepper
2 limes, zest only
100ml/3½fl oz gin
150g/5¼oz fresh dill, roughly chopped
To serve
1 lemon, cut into wedges
rye bread
lightly dressed green salad
Method
Run your fingers across the top of the salmon fillets, removing any bones you find.

In a large bowl, mix together the salt, muscovado sugar and granulated sugar until well combined.

Grind the dill seeds, coriander seeds and cracked black pepper to a powder in a pestle and mortar. Sprinkle the seed powder over the salt mixture, then stir in the lime zest, gin and chopped fresh dill until well combined.

Take a large piece of aluminium foil, large enough to wrap around both fillets of fish, and place one fillet of salmon, skin-side down, on top of it.

Cover the salmon fillet with all of the salt mixture, then place the remaining salmon fillet, skin-side up, on top of it. Wrap the fillets tightly in the foil, then pierce a few holes in it using a cocktail stick (this allows excess liquid to drain from the fish).

Place the fish onto a baking tray and place another baking tray on top. Weigh the top baking tray down with a couple of house bricks or weights from a set of kitchen scales. Chill in the fridge for 2-3 days, turning the packet of fish every 6-8 hours, where possible.

To serve, unwrap the salmon, scraping off any excess salt mixture. Slice the fillets very thinly on the diagonal using a sharp knife, and serve with a wedge of lemon, rye bread and a simple green salad.