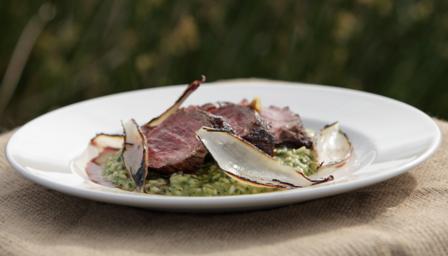 A rich dish of creamy risotto topped with tender pieces of beef fillet.
Ingredients
50g/1¾oz butter
50g/1¾oz fresh parsley, chopped
½ garlic clove, crushed
4 banana shallots, three halved (with skin on) and one finely chopped
2 garlic cloves, finely chopped
50g/1¾oz arborio rice
50ml/2fl oz white wine
300ml/10fl oz chicken stock
25ml/1fl oz olive oil
1 x 500g/1lb 2oz beef fillet (preferably Dexter beef)
salt and freshly ground black pepper
2 tbsp mascarpone
50g/1¾oz parmesan, grated
1 small bunch fresh parsley, leaves chopped
Preparation method
Preheat a barbecue or griddle pan to hot.

In a food processor, mix the butter, parsley and garlic together. (If making in advance you can keep it in the fridge at this point until ready to use.)

Melt the flavoured butter in a saucepan and then gently fry the chopped shallot and garlic for 1-2 minutes.

Add the rice and stir to coat in the butter. Stir in the wine and bring to the boil before adding the stock. Simmer gently for 12-15 minutes stirring occasionally.

Drizzle half of the oil over the steak and season generously with black pepper. Place onto the barbecue or griddle pan. Drizzle the remaining oil over the shallot halves and place onto the barbecue flesh-side down. Cook both for 8-10 minutes, turning halfway through.

Add the mascarpone, parmesan and chopped parsley to the risotto and season to taste with salt and pepper.

To serve, spoon the risotto onto serving plates. Slice the steak and place alongside. Remove the skin from the shallots and place onto the plates.
Less than 30 mins

preparation time
10 to 30 mins

cooking time
Serves 2