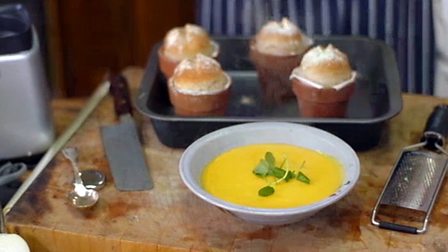 Make a simple vegetable soup feel special by making your own bread to enjoy with it.
Equipment and preparation: for this recipe you will need eight clean clay flowerpots.
Ingredients
450g/1lb pack ready-to-go 'pain de campagne' bread mix
1 tbsp olive oil
25g/1oz butter
100g/3½oz onion, thinly sliced
450g/1lb butternut squash, peeled and cut into 1cm/½in cubes
500ml/18fl oz vegetable stock
375ml/13fl oz milk
salt and freshly ground black pepper
2 limes, zest and juice
Preparation method
Make the bread according to the packet instructions, then leave to prove in a large bowl for an hour, or until doubled in size.

Meanwhile, grease eight clean clay flowerpots with butter and line them with baking parchment.

Remove the dough and knock back. Divide into eight pieces and place into clean clay flowerpots, then leave to prove again for 30 minutes.

Preheat the oven to 220C/425F/Gas 7.

Place the flowerpots on a baking tray and bake for 10-15 minutes, or until golden-brown and cooked through.

Meanwhile, heat the olive oil and the butter in a large saucepan or sauté pan. Add the onion, cover and gently fry for 3-4 minutes.

Add the butternut squash and continue to cook for a further 2-3 minutes.

Add the remaining ingredients, except the lime and bring to the boil, reduce to a simmer and cook for six minutes, or until the butternut squash is tender.

Transfer the soup to a blender and pulse until smooth.

Season with salt and pepper, to taste, and finish with the lime zest and juice.

Serve the soup with the bread alongside.
1-2 hours

preparation time
30 mins to 1 hour

cooking time
Serves 4