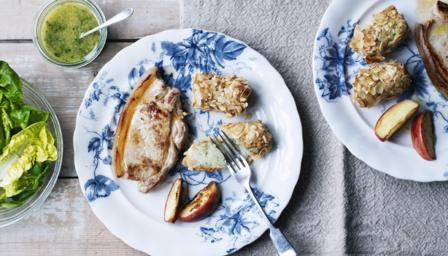 Pork chops cooked with apple wedges, flaked almond-flecked croquettes and a herb-packed salad make for a stunning dinner party supper.
Ingredients
2 pork loin chops
1 apple, cored and cut into wedges
salt, to taste

For the dressing

1 free-range egg yolk
1 tsp English mustard
2 tsp clear honey
2 tbsp cider vinegar
150ml/5fl oz vegetable or sunflower oil
1 banana shallot, finely chopped
1 garlic clove, finely chopped
1 tbsp finely chopped flatleaf parsley
1 tbsp finely chopped mint
1 tbsp finely chopped basil
1 tbsp finely chopped thyme

For the almond croquettes

500g/1lb 2oz mashed potatoes
1 tbsp finely chopped flatleaf parsley
50g/1¾oz plain flour
1 free-range egg, beaten
75g/3oz flaked almonds

For the salad

1 head Little Gem, roughly chopped
2 handfuls lamb's lettuce
Preparation method
Preheat the grill to high. Place the pork chops in an ovenproof frying pan along with the apple wedges, then season the pork fat with salt and place under the grill for 10 minutes.

Meanwhile, make the dressing. Place the egg yolk into a bowl along with the mustard and honey.

Add the cider vinegar and whisk, then gradually add the vegetable oil, whisking all the time until thick and creamy.

Add the shallot, garlic, parsley, mint, basil and thyme and whisk once more, then check the seasoning and set aside.

Heat the oil in a deep-fat fryer or large saucepan to 180C/350F. (CAUTION: hot oil can be dangerous. Never leave the pan unattended.)

Check the seasoning on the mashed potatoes, then add the remaining flatleaf parsley and mix well. Take a small handful and roll into a sausage shape, repeat with all the mash.

Prepare a plate of flour, a bowl of eggs and a plate of flaked almonds.

Roll the potato sausages in the flour, then the eggs and then the flaked almonds.

Place straight into the fat fryer for 2-3 minutes, or until golden-brown, crisp and hot through, then remove using a slotted spoon onto a plate lined with kitchen paper.

Place the salad leaves into a bowl and add enough dressing to just coat the leaves, then serve alongside the croquettes and pork chop.
Less than 30 mins

preparation time
10 to 30 mins

cooking time
Serves 2