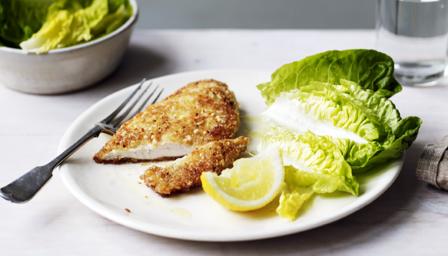 As if breaded chicken wasn't delicious enough, James Martin adds chopped nuts, parmesan, thyme and lemon zest to the breadcrumbs.
Ingredients
4 chicken breasts, boneless and skinless
40g/1½oz shelled hazelnuts
25g/1oz parmesan, freshly grated, plus extra for serving
2 lemons, zested then cut in half
2 sprigs thyme, leaves only
40g/1½oz Japanese panko breadcrumbs
75g/3oz plain flour
sea salt and freshly ground black pepper
2 free-range eggs, beaten
250g/9oz butter
2 heads Little Gem lettuce, leaves separated
Preparation method
Put the chicken between two pieces of greaseproof paper and flatten using a rolling pin until about 1cm thick.

Put the hazelnuts, parmesan, lemon zest and thyme into a food processor and blend to fine crumbs.

Add the breadcrumbs and pulse quickly to just break up the crumbs, then tip out onto a plate.

Scatter the flour onto a plate and season with salt and black pepper. Dust the chicken in the flour.

Put the beaten eggs in a bowl. Dip the chicken into the egg, then into the hazelnut breadcrumbs, making sure to coat each side thoroughly.

Heat the butter in a large frying pan, add the chicken breasts and fry until golden-brown – about five minutes on each side – basting with the butter as you go.

Drain onto kitchen paper and then finish with a little more parmesan cheese.

To serve, lay the chicken escalope on each plate and drizzle over all the remaining butter in the frying pan, then finish with a squeeze of lemon juice.

Pile the salad leaves alongside with a wedge of lemon.
Less than 30 mins

preparation time
10 to 30 mins

cooking time
Serves 4