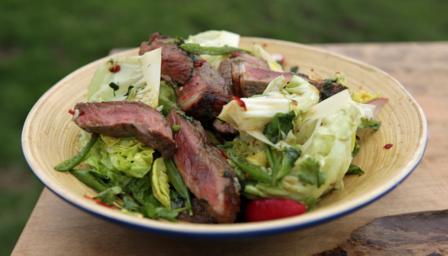 A hearty salad brimming with South-East Asian flavours. Great as a lighter barbecue dish or a quick supper.
Ingredients
1 x 300g/10½oz sirloin or fillet steak
salt and freshly ground black pepper
25ml/1fl oz rapeseed oil
1 red chilli, finely chopped
1 tbsp palm sugar
2 garlic cloves, sliced
2 tbsp fresh coriander, plus extra for the salad
2 tbsp fresh mint
1 tsp fish sauce
1 tbsp soy sauce
1 lime, juice and zest
1 round lettuce
50g/1¾oz sugar-snap peas, halved
6 radishes, sliced
Preparation method
Preheat a barbecue or griddle pan to hot.

Season the steak with lots of black pepper, drizzle with oil and place onto a hot barbecue or griddle pan for five minutes, turning half-way through.

To make the dressing, put the chilli, palm sugar, garlic and a teaspoon of salt into a pestle and mortar. Grind for 1-2 minutes, then add the coriander and mint and grind for another minute. Mix in the fish sauce, soy sauce, lime juice and zest.

Cut the lettuce into six wedges and place in a bowl. Top with the sugar-snap peas, radishes and a few coriander leaves. Pour the dressing over the salad and toss to coat. Slice the beef and lay it on top of the salad.
Less than 30 mins

preparation time
Less than 10 mins

cooking time
Serves 2