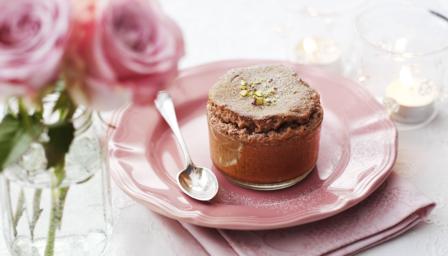 James Martin's individual chocolate and pistachio soufflés are simple to make and rise to the occasion quickly.
Ingredients
butter, for greasing
1 vanilla pod, seeds scraped out
100ml/3½fl oz double cream
50ml/1¾fl oz milk
1 free-range egg yolks
30g/1oz caster sugar
½ tbsp cornflour
15g/½oz milk chocolate, melted
½ tbsp cocoa powder
2 free-range egg whites
30g/1oz pistachios, finely chopped
icing sugar, to dust
Preparation method
Preheat the oven to 220C/425F/Gas 7.

Grease two glass ramekins and set aside.

Heat the vanilla, cream and milk in a pan until boiling.

Meanwhile, whisk the egg yolks and sugar together in a bowl until pale and fluffy.

Whisk the hot cream mixture into the egg yolks. Pour the custard back into the saucepan and return to a low heat. Gently whisk in the cornflour and continue to cook, whisking continuously, until the custard has thickened.

Remove the pan from the heat and stir in the melted chocolate and cocoa.

In a separate clean bowl, whisk the egg whites until soft peaks form when the whisk is removed. Add the sugar and whisk until glossy.

Fold half of the chopped pistachios into the soufflé mixture. Spoon the mixture into the 2 ramekins.

Place each ramekin onto a baking tray and bake in the oven for 10-12 minutes, or until well risen and golden-brown.

To serve, dust with icing sugar and sprinkle over the pistachios as quickly as possible before the soufflé deflates.
Top recipe tip
In this soufflé recipe, steps 1-6 can be done in advance. If making the custard base ahead of time, cover it with cling film to prevent a skin from forming on the surface. Keep chilled, but remove from the fridge 30 minutes before whisking the egg whites to allow the custard to return to room temperature.
Required techniques
Less than 30 mins

preparation time
10 to 30 mins

cooking time
Serves 2