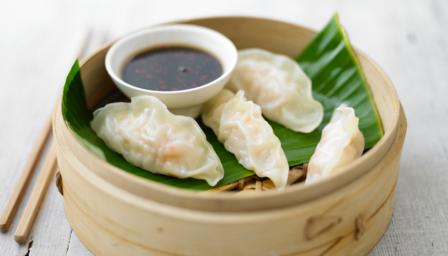 James Martin's dim sum of steamed prawn parcels are served with two types of spicy dip – a great starter for sharing.
Ingredients
For the dips

3 tbsp soy sauce
1 tbsp sesame oil
2 red chillies, finely chopped
3 tbsp rice vinegar
1 tbsp sugar

For the prawn dim sum

250g/9oz raw king prawns, peeled and de-veined
50g/2oz bamboo shoots, finely sliced
1 tbsp sesame oil
1 tbsp dry sherry or rice wine
¼ tsp ground white pepper
1 tsp caster sugar
1 tsp salt
16 ready-made dim sum wrappers (available from Asian supermarkets)
Preparation method
For the dips, place the soy sauce, sesame oil and one of the chopped red chillies into a clean bowl and whisk together.

Meanwhile, place the rice vinegar, sugar and the remaining one chopped red chilli into a pan and heat until the sugar dissolves. Remove from the heat and allow to cool, then pour into a clean bowl.

For the prawn dim sum, place the prawns into a small food processor and blend to a purée. Transfer to a bowl, add all the other ingredients, except the dim sum wrappers, and mix thoroughly.

Place the wrappers onto a clean work surface and place a small spoonful of prawn mixture in the centre of each wrapper. Fold the wrappers over the prawn mixture to create a semi-circle. Press the edges of the wrapper together with damp fingers to seal the wrapper parcels and crimp the edges.

Place the parcels into a bamboo steamer over a pan of simmering water and cover. Steam for 4-5 minutes, or until the prawn mixture is completely cooked through. Remove from the steamer and serve immediately.

To serve, place the dim sum onto a serving plate with both bowls of dips alongside.
Top recipe tip
Tip: The prawn mixture can be made in advance and chilled until needed. The dim sum need to be prepared at the last minute and served immediately.
Required techniques
Less than 30 mins

preparation time
10 to 30 mins

cooking time
Serves 4