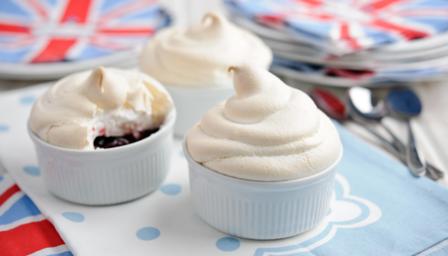 Ingredients
For the pudding

225ml/8fl oz milk
225ml/8fl oz double cream
1 vanilla pod, split
100g/3½oz caster sugar
5 free-range egg yolks
140g/5oz fresh breadcrumbs
2 lemons, zest only
200g/7oz raspberry jam

For the meringue topping

4 free-range egg whites
110g/4oz caster sugar
1 tbsp icing sugar, for dusting
Preparation method
Preheat the oven to 160C/310F/Gas 2.

For the pudding, pour the milk and cream into a pan and add the split vanilla pod. Bring slowly to the boil over a medium heat.

Place the sugar into a large bowl with the egg yolks and whisk until the mixture is light and creamy.

Slowly pour the egg mixture into the hot milk and cream, whisking all the time, then add the breadcrumbs and lemon zest.

Place the jam into a small pan over a low heat and gently melt. Spread the jam over the top of the puddings, then cover the puddings completely with the meringue mixture.

Sprinkle with the icing sugar and bake for 8-10 minutes, or until the top is crisp and lightly browned.

To serve, remove from the oven and serve immediately.
Required techniques
Less than 30 mins

preparation time
30 mins to 1 hour

cooking time
Serves 6-8