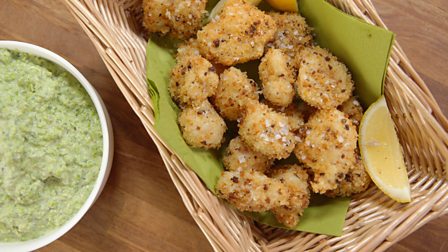 This sophisticated dish takes a lesser known part of the fish and jazzes it up as a sensational starter.
Equipment and preparation: for this recipe you will need a food processor.
Ingredients
For the cod cheeks

150g/5½oz stale sourdough bread, roughly chopped
1 unwaxed lemon, finely grated zest only, plus extra lemon wedges to serve
75g/2½oz plain flour
3 free-range eggs, lightly beaten
20 cod cheeks, cleaned, membranes removed (available from fishmongers or online specialists)
vegetable oil (or vegetable oil mixed with beef dripping), for deep-frying

For the salsa

300g/10½oz frozen peas, defrosted
3 tbsp roughly chopped fresh mint leaves
2 green chillies, de-seeded and roughly chopped
2 limes, juice only
100g/3½oz crème fraîche
salt and freshly ground black pepper
Preparation method
For the cod cheeks, blend the bread to crumbs in a food processor, then add the lemon zest and pulse again to combine. Tip the mixture into a shallow bowl and clean the food processor.

Sprinkle the flour onto a plate and season with salt and freshly ground black pepper. Beat the eggs in a bowl.

In batches, dust the cod cheeks in the flour, then dip them in the beaten egg, then roll them in the breadcrumb mixture until completely coated. Place each breaded cod cheek on a plate. Cover with cling film and chill in the fridge until needed.

For the salsa, blend the peas, mint, chillies, lime juice and crème fraîche in the food processor to a rough paste. Tip it into a serving bowl, cover and chill until needed.

Heat the oil (and dripping, if using) in a deep-fat fryer to 190C. Alternatively, heat the oil in a deep, heavy-based saucepan until a breadcrumb sizzles and turns golden-brown when dropped into it. (CAUTION: Hot oil can be dangerous. Do not leave unattended.)

Carefully lower the cod cheeks into the hot fat in batches, and fry for 2-3 minutes, or until golden-brown and cooked through. Remove from the oil using a slotted spoon and set aside to drain on kitchen paper. Repeat the process with the remaining cod cheeks.

To serve, pile the breaded cod cheeks onto a serving platter. Place the lemon wedges and the bowl of pea salsa alongside.
Top recipe tip
Tip 1: Cod cheeks are solid lumps of meat with a membrane running through them, which needs to be removed – ask your fishmonger to do this for you. If you can't get hold of cod cheeks, cod fillets will do.
Tip 2: Both the cod cheeks and the salsa can be prepared one day in advance and chilled to make your dinner party run smoothly.
Less than 30 mins

preparation time
10 to 30 mins

cooking time
Serves 4