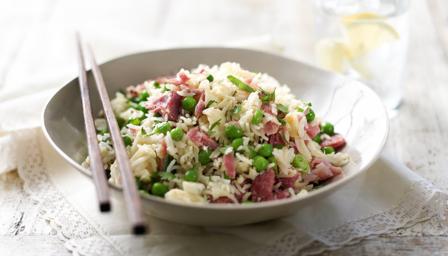 James Martin's version of this takeaway favourite is fast, easy, uses up your leftovers and goes easy on the washing up.
Ingredients
1 clove garlic, chopped
1 tbsp fresh ginger, chopped
2 tbsp vegetable oil
1 tbsp sesame oil (optional)
2 eggs
227g/8oz pre-cooked long grain rice, chilled
3 spring onions, finely chopped
salt and pepper
113½g/4oz frozen peas, thawed and drained
50g/2oz cooked ham or chicken, diced OR prawns chopped coriander, to taste
Preparation method
Heat a wok or large frying pan until it is very hot. Add the garlic and ginger and cook briefly, stirring all the time.

Add the COLD rice and seasoning and stir fry for about 5 minutes on a high heat.

Beat the eggs together and add the mixture to the pan. Stir fry until the eggs have set.

Add the peas, ham, chicken or prawns to the rice.

At the end of cooking mix in the coriander. Transfer to a warm dish and serve hot or cool as a rice salad.
Required techniques
Less than 30 mins

preparation time
10 to 30 mins

cooking time
Serves 1