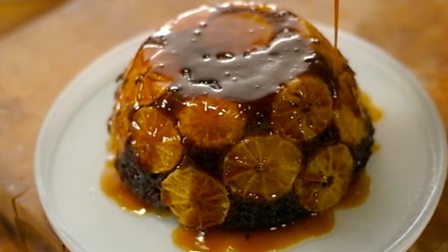 If you like the combination of chocolate and orange then this is the pudding for you. The clementines are festive enough to make this an alternative to Christmas pudding.
Ingredients
For the sponge

8 clementines
175g/6oz butter, softened, plus extra for greasing
175g/6oz golden caster sugar
3 medium free-range eggs
125g/4½oz self-raising flour
50g/1¾oz cocoa powder
1 tsp baking powder
pinch salt

For the orange sauce

75g/2¾oz caster sugar
½ vanilla pod, split in half lengthways and seeds scraped out
50ml/2fl oz orange liqueur
100ml/3½fl oz orange juice
1 clementine, juice only
40g/1½oz butter
200g/7oz crème fraîche
Preparation method
For the sponge, butter a 1.2 litre/2 pint heatproof bowl.

Carefully cut the skin off the clementines and cut the flesh into thick slices.

Lay the clementine slices in the buttered bowl – with one in the centre then five around it, repeating all the way up the side of the bowl.

Place the butter, sugar, eggs, flour, cocoa, baking powder and pinch of salt into a bowl and whisk until light and fluffy. Spoon carefully into the clementine-lined bowl.

Lay a sheet of greaseproof paper onto a sheet of foil, then fold a pleat down the middle. Place on top of the pudding bowl and secure with string. Take a long piece of foil and fold to make a long strip which will form a handle. Place the foil strip under the bowl and wrap over the top.

Place an upside down saucer or small plate on a cloth into the bottom of a large saucepan and fill half way up with water.

Place the foil-covered bowl into the saucepan. Cover with a lid and bring to a boil, then reduce the heat and simmer for 1½-2 hours.

For the sauce, heat a sauté pan or large frying pan until hot. Add the caster sugar and vanilla seeds and heat until the sugar has melted and formed a light golden-brown caramel.

Add the orange liqueur and flambé by carefully tipping the pan towards the flame or lighting with cooks' matches. Add the orange juice and clementine juice and cook for 2-3 minutes, or until it all comes together into a thin sauce.

Add the butter and swirl to combine and thicken.

To serve, lift the pudding from the saucepan using the foil strip to help you. Discard the foil and baking parchment.

Place a plate on top and turn over, tipping the pudding onto the plate.

Pour the sauce over the top, spoon some crème fraîche over and then dig in!
Less than 30 mins

preparation time
1 to 2 hours

cooking time
Serves 4-6