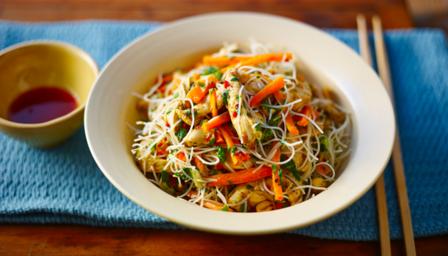 A deliciously light and zingy salad. Thai basil has a more intense, citrus flavour, but you can use ordinary European basil in a pinch.
Ingredients
For the chicken

4 boneless, skinless chicken breasts, cut into strips
10cm/4in piece fresh ginger, peeled and roughly chopped
2 garlic cloves, roughly chopped
3 tbsp soy sauce
1 tbsp tamarind
1 lime, juice only
2 tbsp basil leaves, picked

For the dressing

1½ limes, juice only
2 tbsp palm sugar
1 tbsp dark soy sauce
2 garlic cloves, crushed
1 tbsp ginger, finely grated
3 tbsp fish sauce
3 red chillies, seeds removed, finely chopped

For the salad

250g/9oz fine rice noodles
4 spring onions, finely sliced
2 carrots, peeled and julienned
2 tbsp chopped basil leaves
2 tbsp chopped mint leaves
2 tbsp chopped coriander leaves
6 tbsp roasted peanuts
Preparation method
Place the chicken into a bowl. Place the rest of the ingredients for the chicken into a pestle and mortar or food processor and blend to a fine purée. Pour over the chicken and mix well to coat then set aside in the fridge for at least one hour.

Place a large steamer over a large pan of water, place one layer of chicken pieces into the steamer, cover and steam for 5-6 minutes until just cooked through.

Remove the chicken from the steamer, set aside then repeat with the remaining chicken pieces.

For the dressing, place all the ingredients into a pestle and mortar or food processor and blend until well combined. Set aside.

For the salad, pour boiling water over the noodles and leave to soak for five minutes. Drain, then toss the noodles with two-thirds of the dressing and leave to infuse for 5-10 minutes.

Add the remaining salad ingredients and mix well to combine.

To serve, add the chicken to the salad and toss well to combine. Finish with a drizzle of the remaining dressing.
1-2 hours

preparation time
30 mins to 1 hour

cooking time
Serves 4