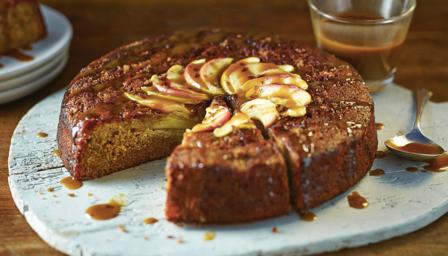 James Martin's wickedly indulgent sticky toffee pudding is flavoured with apple and topped with a boozy caramel sauce.
Ingredients
For the sticky toffee apple pudding

140g/5oz butter, softened at room temperature, plus extra for greasing
300g/10½oz Bramley apples, peeled, cored and chopped
50ml/2floz water
75g/3oz caster sugar
2 tbsp calvados
175g/6oz light soft brown sugar, plus extra for sprinkling
3 tbsp golden syrup
2 free-range eggs
1 tsp vanilla extract
200g/7oz self-raising flour, plus 2 tbsp for dusting
1 tsp bicarbonate of soda
1 Cox's Orange Pippin apple, cored and finely sliced

For the calvados caramel sauce

110g/4oz dark soft brown sugar
110g/4oz butter
500g/1lb 2oz vanilla ice cream
2 tbsp calvados
175ml/6floz double cream
Preparation method
Preheat the oven to 190C/375F/Gas 5. Grease and flour a 23cm/9in spring-form tin.

Melt 25g/1oz of the butter in a saucepan and add the apples, water and sugar. Cook over a gentle heat until steam appears from the saucepan, then cover with a lid and cook for 3-4 minutes, or until thick and fluffy.

Remove the lid and beat the mixture to remove any lumps. Add the calvados and beat until well combined.

Beat 90g/3oz of the butter and the soft brown sugar in a large mixing bowl until light and fluffy.

Add the golden syrup, eggs and vanilla extract and mix until well combined.

Fold the self-raising flour into the cake mixture.

Meanwhile, add the bicarbonate of soda to the apple puree and mix well, then stir this quickly into the cake mixture. Pour into the cake tin and gently tap the sides of the tin to evenly disperse the mixture.

Bake for about 40-45 minutes in total. While the cake is baking, melt the remaining 25g/1oz of butter in a saucepan. After the cake has been in the oven for 30 minutes, arrange the sliced apple over the top of the cake in a circle, and brush with the melted butter. Sprinkle brown sugar evenly over the cake and return to the oven. Once the cake is cooled, allow to cool slightly before turning out.

For the calvados caramel sauce, place the sugar and butter into a small saucepan and cook until melted and well combined. Pour in the double cream and calvados. Simmer gently for three to five minutes, or until the mixture thickens slightly.

To serve, cut the cake into slices and put a spoonful of ice cream on top. Finish by drizzling over some of the sauce.
Less than 30 mins

preparation time
30 mins to 1 hour

cooking time
Serves 6