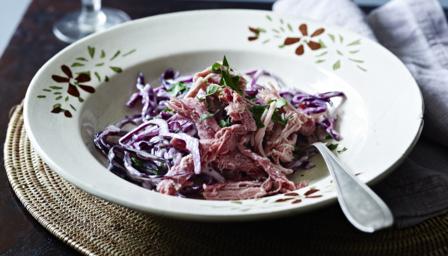 An easy way to turn leftover ham into a healthy meal. Homemade mayonnaise on red cabbage with no cooking needed.
Ingredients
1 egg yolk
1 tbsp Dijon mustard
50ml/2fl oz walnut vinegar
100ml/3½fl oz vegetable oil
salt and freshly ground black pepper
½ red cabbage, finely sliced
½ cooked ham hock, shredded
Preparation method
Place the egg, mustard and vinegar in a bowl and whisk together. Slowly add the oil whisking all the time until emulsified and the mixture resembles mayonnaise. Add 25ml/1fl oz water to slacken then season with plenty of salt and black pepper.

Put the cabbage into a bowl and add the dressing, toss well to combine then set aside for at least 15 minutes to wilt, preferably up to one hour.

Pile onto plates and top with some shredded ham hock.
30 mins to 1 hour

preparation time
No cooking required

cooking time
Serves 4