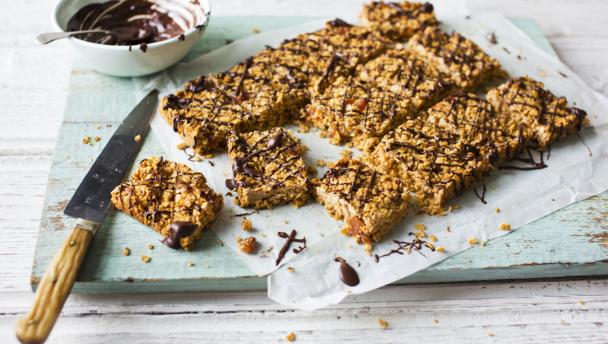 Flapjacks are fun to bake with all the family – get the kids involved and try out your own flavour combinations!

Ingredients
200g/7oz unsalted butter, plus extra for greasing
300g/10½oz golden syrup
450g/1lb jumbo rolled porridge oats
pinch of plain flour
pinch salt
200g/7oz dried, ready-to-eat apricots, roughly chopped
100g/3½oz plain chocolate, broken into pieces
Method
Preheat the oven to 180C/160C Fan/Gas 4. Grease a 20cm/8in square cake tin with butter, then line the base and sides with baking parchment.

Slowly bring the butter and syrup to the boil in a saucepan, stirring. Remove from the heat and stir in the oats and salt, then the dried apricots, until well combined.

Scrape the mixture into the prepared tin, then press it into an even layer using the back of a wooden spoon. Bake for 45-50 minutes, or until golden-brown. Set aside to cool slightly in the tin, then run a round-bladed knife around the inside edges of the tin and cut the flapjack into squares. Set them aside to cool completely in the tin.

Meanwhile, suspend a heatproof glass bowl over a saucepan of gently simmering water, making sure that the base of the bowl does not touch the water. Add the chocolate and stir until melted.

Turn the cooled flapjacks out onto a wire rack and drizzle them with the melted chocolate. Set aside for a further 25-30 minutes, or until the chocolate has set. Enjoy!
Recipe Tips
Tip 1: To line the cake tin, cut a square of baking parchment slightly bigger than the tin, then cut slits in each corner so that it sits snugly inside, with the cut edges overlapping at each corner.
Tip 2: These flapjacks are cooked until soft. If you prefer a crunchier flapjack, press the mixture into a shallower, larger baking tray to increase the surface area, turn the oven up by 20C, and cook for about 10 minutes longer, checking to make sure the flapjacks don't brown too quickly.
Tip 3: You could add seeds, dried cranberries or chopped stem ginger to the mixture instead of apricots.
Tip 4: Cut the flapjacks into squares while they are still warm, otherwise they will harden too much to cut easily.
Tip 5: You could add 1 tablespoon of quick-cook oats or plain flour to the flapjack mixture just after stirring in the rolled oats to help them stick together.