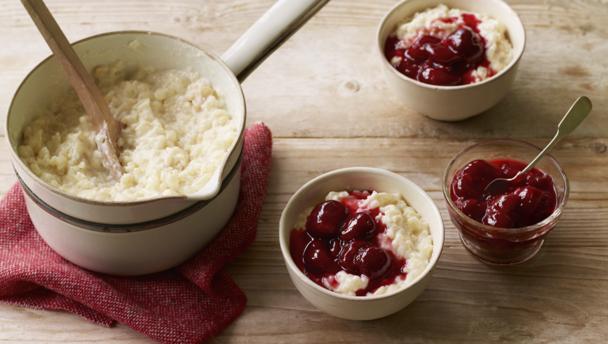 Preparation time
less than 30 mins
Cooking time
30 mins to 1 hour

Hairy Bikers recipes
From The Hairy Bikers' Northern Exposure
Ingredients
1½ litres/2½ pints whole milk
300g/10½oz short grain or pudding rice
15g/½oz butter
3 tbsp caster sugar
1 vanilla pod, split
100g/3½oz blanched almonds, finely chopped
For the cherry compôte
500g/1lb 2oz cherries, pitted
100g/3½oz caster sugar
1 lemon, juice only
2 tsp arrowroot
kirsch, to taste (optional)
To serve
100ml/3½fl oz double cream, whipped
Method
Put the milk, rice, butter, caster sugar and vanilla pod into a large saucepan. Heat it very slowly, until almost at boiling point, then turn it down. Cook for around 30 minutes on a very low heat, stirring frequently to make sure it does not stick to the bottom.

Meanwhile, make the cherry compôte. Put the cherries in a saucepan with the caster sugar, lemon juice and 300ml/10 fl oz water. Heat slowly, stirring constantly, until the sugar has dissolved, then simmer for around 10 minutes until the cherries are slightly softened. Mix the arrowroot with a little water and stir until smooth. Add to the cherries as they are simmering and stir until the sauce has slightly thickened. Add the kirsch, if using.

Stir the almonds into the pudding. Serve the pudding with a dollop of whipped cream and a large spoonful of the cherry compôte.