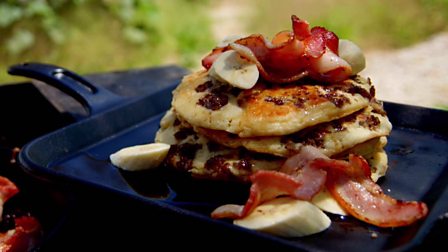 Preparation time
less than 30 mins
Cooking time
10 to 30 mins
Serves
Makes 8 x 20cm/8in pancakes

Hairy Bikers recipes
From Hairy Bikers – Chicken & Egg
Ingredients
500g/1lb 2oz sausagemeat
450g/1lb self-raising flour
1 tsp baking powder
pinch of salt
600ml/20fl oz buttermilk
3 large free-range eggs, separated
50g/1¾oz butter, melted, plus extra for frying
maple syrup, to serve
Method
Put the sausagemeat in a large frying pan and break it up using a wooden spatula or spoon. Fry the meat, stirring regularly and continuing to break it up, until well browned and cooked through. If a lot of fat has rendered out, turn out onto a piece of kitchen paper, otherwise leave in the frying pan, off the heat, until you need it.

Put the flour in a large bowl with the baking powder and add a pinch of salt. Mix to combine and remove any lumps then make a well in the middle and set aside. Combine the egg yolks, melted butter and buttermilk. In a separate bowl, whisk the egg whites until stiff peaks form when the whisk is removed.

Pour the buttermilk mixture into the flour and whisk until well combined. Add a large spoonful of the egg whites and fold in using a large metal spoon. Stir in the rest of the egg whites, trying to preserve as much of the air in the whites as possible. You should have a fluffy, bubbly batter.

Heat a frying pan (preferably around 20cm/8in) to a medium heat and rub over a little butter. Pour 1½ ladlefuls of the batter into the frying pan – it should spread out to around 20cm/8in in diameter. Take a couple of tablespoons of the sausage mixture and sprinkle over the pancake. The pancake will rise up around the sausage meat as it cooks. When the pancake has browned on the bottom and is firm enough to flip, turn it over quickly and cook for another minute on the other side. Repeat with the rest of the batter and the sausage meat. Serve with maple syrup.