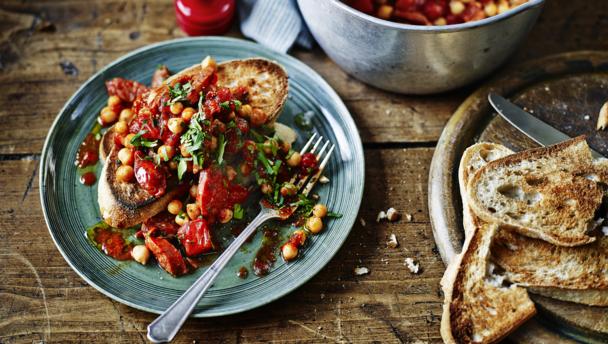 Preparation time
less than 30 mins
Cooking time
less than 10 mins
Serves
Serves 2

From The Hairy Bikers and Lorraine Pascale: Cooking the Nation's Favourite Food
Ingredients
100g/3½oz cooking chorizo, diced
200g/7oz tinned chickpeas, drained and rinsed
200g/7oz tinned chopped tomatoes
1 tbsp chopped fresh thyme leaves
salt and freshly ground black pepper
To serve
2 slices toast
1 tbsp chopped fresh parsley leaves
Method
Place a saucepan over a medium heat. When the pan is hot, add the chorizo and fry for 1-2 minutes, or until starting to crisp.

Add the drained chickpeas and tinned tomatoes, then stir in the thyme. Season, to taste, with salt and freshly ground black pepper. Simmer for 4-5 minutes, or until the sauce has warmed through and thickened to your liking.

To serve, spoon the chickpea mixture on top of the toast and garnish with parsley.