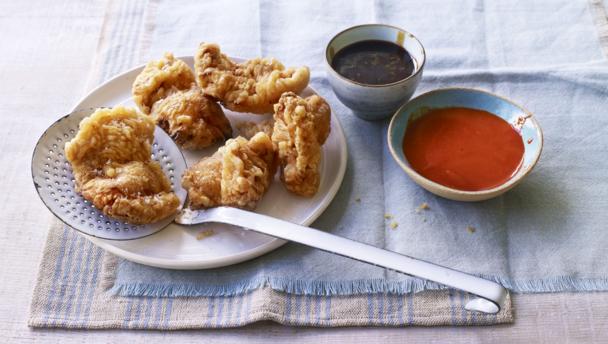 Preparation time
1-2 hours
Cooking time
30 mins to 1 hour
Serves
Serves 4

Hairy Bikers recipes
From Hairy Bikers – Chicken & Egg
Ingredients
8–10 chicken pieces (thighs work best), boneless, skin removed
For the brine
100g/3½oz caster sugar
75g/2½oz sea salt
200ml/7fl oz hot water
For the first coating
2 heaped tbsp plain flour
1 tbsp cornflour
1 tsp baking powder
1 tsp salt
For the batter
125g/4½oz plain flour
25g/1oz cornflour
½ tsp salt
½ tsp baking powder
100ml/3½fl oz vodka
For the sweet soy sauce
100ml/3½fl oz soy sauce
25ml/1fl oz mirin
25ml/1fl oz rice wine vinegar
2cm/¾in piece fresh root ginger, grated
2 garlic cloves, grated
50g/1¾oz brown sugar
few drops of sesame oil
1 tsp cornflour
sesame seeds, for sprinkling
For the chilli sauce
2 tbsp Korean chilli paste (gochujang if you can get it)
1 tbsp hot sauce
1 tsp rice wine vinegar
1 tbsp honey
few drops of sesame oil
Method
Start by brining the chicken. Dissolve the sugar and salt in the hot water, then mix1 litre/1¾ pint cold water into the brine solution. Submerge the chicken and leave to stand, covered, for 2 hours. Meanwhile, make the sauces.

For the sweet soy sauce, put the soy, mirin, rice wine vinegar, ginger, garlic and sugar into a saucepan. Stir over a low heat until the sugar is dissolved and simmer for 2 minutes. Taste for seasoning and add a little salt if necessary. Add sesame oil to taste. Whisk the cornflour with a little cold water until you have a smooth but very runny paste, then whisk this into the sauce over a low heat, until the sauce thickens very slightly. Set aside.

For the chilli sauce, whisk all the ingredients together, thinning with a little water if too thick. Taste and add salt if necessary.

To cook the chicken, drain and rinse the brined chicken thoroughly, then pat dry. Make the first coating (this is the coating the batter will stick to, otherwise it tends to fall off) by whisking the flour, cornflour, baking powder and salt together. Dust the chicken in this mixture, patting off any excess, and leave to stand while you make the batter.

For the batter, whisk together the dry ingredients, then whisk in 100ml/3½ cold water and the vodka – the texture should be quite thin, like double cream.

Add oil to your fryer, large saucepan or wok, making sure you don't fill it beyond half way. Heat the oil to 160C. (CAUTION: hot oil can be dangerous. Do not leave unattended.)

Dip the chicken pieces in the batter one at a time. Allow any excess to drip off over the bowl, then slowly lower into the hot oil, letting go when the chicken piece is almost submerged. Fry for 8–10 minutes, then drain and put on kitchen paper – the chicken should be cooked through but have barely taken on any colour. Turn the heat up to 190C, or if using a saucepan, turn the heat up and leave for around 5 minutes to reach the right temperature. Fry the chicken for another 2 minutes, or until it has darkened. Remove and drain thoroughly on kitchen paper. It should be beautifully crisp. You can serve it with the sauces, or you can brush some of the soy-based sauce over it and serve with the chilli sauce.