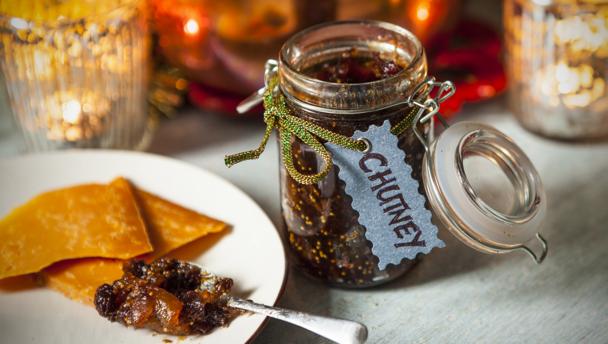 Preparation time
less than 30 mins
Cooking time
30 mins to 1 hour
Serves
Makes 1-2 jars

Hairy Bikers recipes
From The Hairy Bikers' Christmas Party
Ingredients
1 tbsp sunflower oil
2 red onions, sliced
2 garlic cloves, finely chopped
2 tsp finely chopped fresh root ginger (or stem ginger in syrup, drained and finely chopped)
200g/7oz ready to eat dried apricots, quartered
150g/5½oz soft dried figs, quartered
100g/3½oz raisins
150g/5½oz demerara sugar
150ml/5fl oz white wine vinegar
¼ whole nutmeg, finely grated
1 cinnamon stick
1 tsp sea salt flakes
freshly ground black pepper
Method
Heat the oil in a large non-reactive saucepan and fry the onions over a low heat for 10 minutes, or until very soft but not coloured.

Add the garlic and ginger, and cook for a further 2-3 minutes.

Increase the heat slightly and fry for a further 4-5 minutes, until the onions begin to brown, stirring constantly.

Add the apricots, figs and raisins to the pan and cook for 2-3 minutes, or until the dried fruit begins to plump up a little.

Sprinkle over the sugar, add the vinegar, spices and season to taste with salt and freshly ground black pepper.

Stir well and bring to a gentle simmer, and cook, uncovered, for 30 minutes, stirring occasionally. (The chutney is more likely to stick towards the end of the cooking time so pay particular attention to stirring then.)

The chutney is ready when the liquid has reduced to just 4-5 tablespoons, and the fruit looks plump and glossy. Remove from the heat and set aside to cool. As the chutney cools stir it a little to distribute the moisture.

Spoon the chutney into sterilised jars.