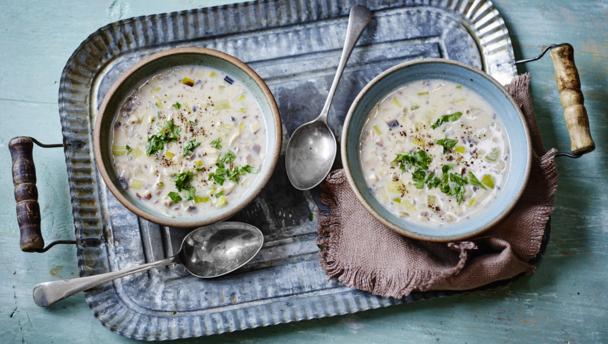 Preparation time
less than 30 mins
Cooking time
10 to 30 mins
Serves
Serves 4
By Bath Place Community Venture
From The Hairy Bikers: Mums Know Best
Ingredients
25g/1oz butter
1 large onion, finely chopped
1 green pepper, finely chopped
1 medium leek, finely chopped
1–2 garlic cloves, crushed
300g/10½oz button or chestnut mushrooms, grated or finely chopped
2 tbsp plain flour
450ml/16fl oz vegetable stock
450ml/16fl oz milk
1 tbsp finely chopped parsley
salt and freshly ground black pepper
crusty bread, to serve
Method
Melt the butter in a pan over a low heat, and gently sweat the onion, green pepper, leek and garlic until they start to soften.

Increase the heat and add the mushrooms to the pan, stir until well combined. Continue to fry until the mushrooms are cooked. Stir in the flour, and cook for one minute. Remove the pan from the heat and add the stock a little at a time, stirring well between each addition.

Once all the stock is added, return the pan to the heat, bring to the boil, reduce the heat and simmer for a few minutes. Pour in the milk and bring to a simmer. Stir in the chopped parsley and season to taste with salt and freshly ground black pepper.

Ladle the soup into bowls and serve with crusty bread.