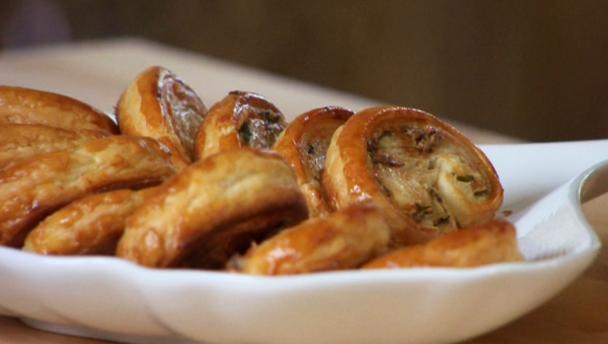 Preparation time
30 mins to 1 hour
Cooking time
10 to 30 mins
Serves
Makes 10

Hairy Bikers recipes
From Hairy Bikers Everyday Gourmets
Ingredients
1 tbsp olive oil
small handful fresh sage leaves
200g/7oz ready-made puff pastry
plain flour, for dusting
8 tbsp freshly grated parmesan
12 tinned anchovies (preserved in oil), drained, finely chopped (optional)
freshly ground black pepper
1 free-range egg, lightly beaten
dry sherry, to serve (optional)
Method
Heat the olive oil in a frying pan over a medium heat. Add the sage leaves and fry for 1-2 minutes, or until crisp, then remove the sage leaves from the pan using a slotted spoon and set aside to drain on a plate lined with kitchen paper.

Roll out the puff pastry onto lightly floured work surface until it measures approximately 20cm x 30cm/8in x 12in. Trim the edges using a sharp knife.

Sprinkle the fried sage leaves, parmesan and anchovies (if using) over the puff pastry and season, to taste, with freshly ground black pepper.

With the longest side of the pastry rectangle facing you, roll each short side of the rectangle into the centre of the pastry so that they meet in the middle (the rolled pastry should resemble a scroll).

Brush the rolled pastry all over with the beaten egg and chill in the fridge for 30 minutes. Reserve any remaining egg.

When the pastry has chilled, preheat the oven to 200C/400F/Gas 6. Line a baking tray with a silicone sheet.

Brush the rolled pastry all over with the beaten egg once again, then, using a very sharp knife, cut it into 10 slices (cut so that each slice comprises two circles of pastry).

Place the slices of pastry onto the prepared baking tray and bake for 10-12 minutes, or until the pastry has puffed up and is golden-brown. Set aside to cool slightly before serving with a glass of sherry, if desired.