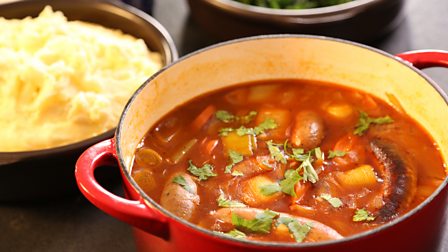 Preparation time
less than 30 mins
Cooking time
30 mins to 1 hour
Serves
Serves 4-6

Hairy Bikers recipes
From Hairy Bikers' Best of British
Ingredients
1 tbsp sunflower oil
12 good-quality pork sausages
2 medium onions, chopped
2 celery sticks, trimmed and thinly sliced
3 medium carrots, peeled and thickly sliced
500ml/18fl oz India pale ale
½ beef stock cube
2 tbsp tomato purée
2 tbsp light muscovado sugar
1 bay leaf
splash Worcestershire sauce
2 medium leeks, trimmed and cut into 2cm/1in slices
1 tbsp cornflour
1 tsp flaked sea salt, plus extra to season
freshly ground black pepper
fresh parsley, chopped, to garnish
Method
Heat the oil in a large non-stick frying pan and fry the sausages over a medium heat for 8-10 minutes, turning regularly until nicely browned all over. Transfer the sausages to a large flameproof casserole or your biggest saucepan.

Add the onions, celery and carrots to the frying pan and cook over a medium-high heat, stirring regularly, for five minutes or until beginning to soften and lightly colour. You shouldn't need any extra fat to fry the vegetables, but if you do, just add a splash more sunflower oil. Tip the vegetables into the pan with the sausages.

Pour the ale and 150ml/5fl oz water into the casserole and crumble the stock cube over the top. Stir in the tomato purée, sugar, bay leaf and a splash of Worcestershire sauce. Bring to the boil then reduce the heat, cover with a lid and simmer gently for 30 minutes, stirring occasionally.

Add the leeks to the casserole and simmer uncovered for five minutes, stirring occasionally. Mix the cornflour with a tablespoon of cold water until smooth. Stir into the casserole and cook for 2-3 minutes, stirring regularly until the sauce has thickened.

Remove the pan from the heat, season with salt and pepper and sprinkle the chopped parsley over.