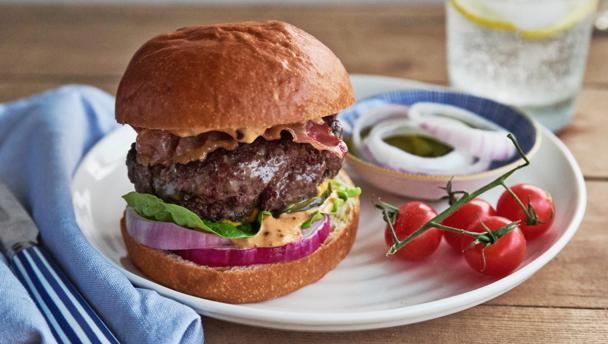 Preparation time
less than 30 mins
Cooking time
less than 10 mins
Serves
Serves 4

Hairy Bikers recipes
From The Hairy Bikers' Comfort Food
Ingredients
800g/1lb 12oz chuck steak, trimmed of any gristle or hard pieces of fat, chilled
50g/1¾oz bone marrow, finely diced (optional)
4 burger buns, split
flaked sea salt and freshly ground black pepper
For the burger sauce
100g/3½oz mayonnaise
2 tbsp tomato ketchup
squeeze of lemon juice
1 large gherkin, finely chopped
1 tsp garlic powder
½ tsp chipotle paste or other hot sauce
Method
Make sure the meat is well chilled – if you freeze it, then let it thaw partially, you'll find it much easier to cut. Put it through a coarse mincer, or chop it very finely by hand. It should be fine enough to stick together when you squeeze a handful. Add the bone marrow, if using.

Season the steak with salt and a little black pepper, then divide the mixture into four and shape each one into a round pattie 2–2.5cm/¾–1in thick. The mincing and chopping will help bring the meat to room temperature, but if it's still cold, leave the burgers to stand for a while.

For the burger sauce, mix together all the ingredients in a bowl.

Heat a frying pan or your barbecue. When too hot to hold your hand over, add the burgers – there's no need for oil, as some fat will render out of the meat. Cook for 4 minutes, or until the burgers are well seared and have a thick crust. Flip them and cook for another 3 minutes for rare meat, 4 minutes for medium-rare, 5 for medium and up to 6 for well done. Serve with the burger sauce.