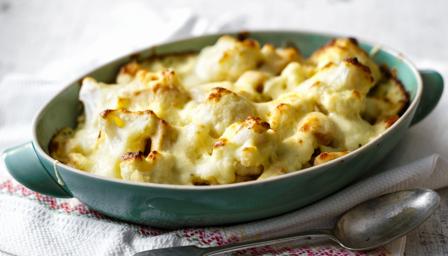 James Martin's recipe for cauliflower cheese, with its punchy béchamel sauce and flakes of cooked salmon, is a delicious use of leftovers. Skip the salmon for your Sunday dinner.
Ingredients
1 large cauliflower, cut into florets
50g/2oz butter, plus extra for greasing
50g/2oz plain flour
450ml/16fl oz milk
2 free-range egg yolks
1 tsp English mustard
splash of Worcestershire sauce
salt and black pepper
150g/5oz cooked flaked salmon
125g/4½oz cheddar cheese, grated
75g/3oz emmental cheese, grated
Preparation method
Preheat oven to 200C/400F/Gas 6.

Bring a large pan of salted water to the boil, then add the cauliflower and cook for two minutes.

Drain and place in a buttered ovenproof dish.

Place the butter and flour into a saucepan and heat to melt the butter.

Cook, stirring for one to two minutes until lightly golden.

Remove from the heat and gradually whisk in the milk to form a smooth sauce.

Return to the heat and simmer for two to three minutes.

Remove from the heat and beat in the egg yolks, mustard and Worcestershire sauce.

Season with salt and pepper and flake the salmon into the sauce, stirring carefully.

Pour over the cauliflower and top with the grated cheeses.

Place in the oven and cook for 10-15 minutes, until golden brown. Serve immediately.
Less than 30 mins

preparation time
30 mins to 1 hour

cooking time
Serves 4