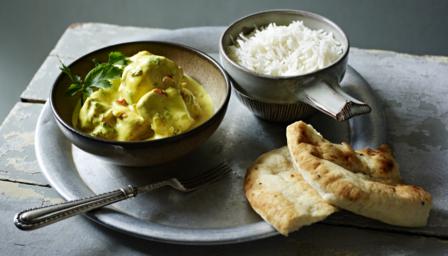 Marinating the meat makes all the difference so don't be tempted to skip that step. If you want a lighter curry, swap some of the cream for natural yoghurt.
Ingredients
4 chicken breasts, skinned, boned and cubed
2.5cm/1in piece of fresh root ginger, finely chopped
2 garlic cloves, finely chopped
1 tsp chilli powder
sea salt and freshly ground black pepper
2 tbsp fresh coriander
1 lime, juice only
2 tbsp vegetable oil
1 onion, finely chopped
1 red chilli, de-seeded and finely chopped
1 tsp ground turmeric
300ml/10½fl oz double cream
½ lemon
fresh coriander, to garnish

To serve
Preparation method
Place the chicken breasts in a large bowl and mix with the ginger, garlic, chilli, salt, pepper, coriander, lime juice and one tablespoon of the oil.

Set aside and allow the flavours to develop.

Heat a heavy-bottomed shallow pan and, when hot, add the chicken.

Cook for 8-10 minutes until the chicken is browned on all sides.

Meanwhile, heat the remaining oil in a large pan and cook the onion and red chilli for 5-6 minutes until golden brown.

Add the turmeric and cook for one minute.

Stir in the cream and cook gently for a couple of minutes.

Add the chicken to the creamy sauce and simmer for five minutes until the chicken is cooked through.

Check for seasoning, and add lemon juice to taste.

Garnish with fresh coriander and serve immediately with the rice and/or naan bread.
Less than 30 mins

preparation time
10 to 30 mins

cooking time
Serves 4