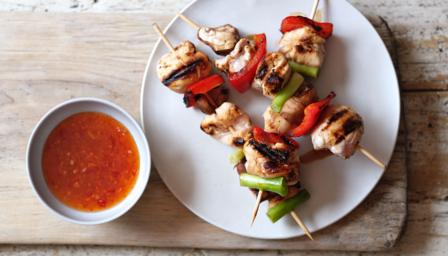 These easy chicken skewers are the perfect party food that can be cooked on a griddle or barbecue.
Ingredients
500g/1lb chicken breast, cut into 2.5cm/1in pieces
1 red pepper, deseeded and cut into chunks
small bunch spring onions
6 shiitake mushrooms, stem removed and halved
small bunch spring onions
3 tbsp mirin
3 tbsp Japanese soy sauce
3 tbsp sake (rice wine)
1 tsp sugar
Preparation method
Thread the chicken pieces onto pre-soaked bamboo skewers, interspersing each piece of chicken with spring onion, pepper and mushroom.

Mix together the mirin, soy, rice wine and sugar and stir until the sugar dissolves.

Heat a griddle pan and brush the chicken with the glaze. Griddle turning every 30 seconds or so, brushing the top each time until the chicken is cooked through and the meat burnished a to mahogany glaze.
Less than 30 mins

preparation time
10 to 30 mins

cooking time
Serves 4