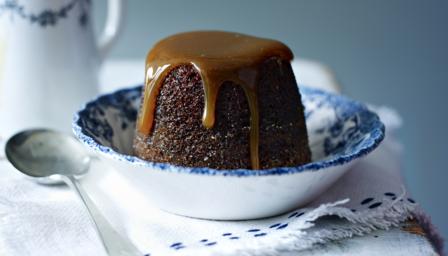 Sticky toffee pudding made easy – no steaming, no caramel to make, just tasty springy sponge and a treacle toffee sauce.
Ingredients
5 tbsp demerara sugar, for coating the moulds
200g/7oz pitted dates
½ tsp vanilla extract
50g/2oz butter, softened, plus extra for greasing the moulds
175g/6oz dark muscovado sugar
1½ tsp golden syrup
1½ tsp black treacle
200g/7oz self-raising flour
2 free-range eggs
1½ tsp bicarbonate of soda

For the toffee sauce

500ml/18fl oz double cream
175g/6oz demerara sugar
175g/6oz butter
1 tbsp golden syrup
1 tbsp black treacle

To serve
Preparation method
Preheat the oven to 190C/375F/Gas 5.

Butter eight small pudding basins (dariole moulds) and sprinkle demerara sugar inside, coating evenly. Shake any excess sugar out of the moulds, and place them on a baking tray.

Place the dates with 250ml/9fl oz water into a saucepan and bring up to the boil. Reduce the heat and simmer for 2-3 minutes. Remove the pan from the heat.

Stir the vanilla extract into the date mixture.

Blend with a stick blender until the date mixture is thick and soupy.

In a large bowl, beat the butter and muscovado sugar together until smooth.

Stir in the syrup and treacle, then the flour, mixing well.

Break the eggs one at a time into the bowl, stirring well after each one.

Add the bicarbonate of soda to the date mixture, then pour into the flour mixture and beat well to blend.

Pour the mixture into the prepared pudding basins, filling them two-thirds full.

Put the puddings into the oven immediately, and bake for 20 minutes until well-risen and springy to the touch.

For the sauce, gently heat the cream in a saucepan. Add the sugar and butter and whisk until melted. Whisk in the syrup and treacle.

To serve, turn the pudding out onto a plate, spoon the sauce over the top and around, then finish with a dollop of ice cream.
Less than 30 mins

preparation time
10 to 30 mins

cooking time
Makes 8