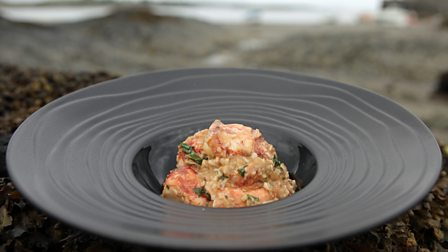 A really quick and easy seafood curry that would work well with prawns as well as lobster. Serve with pilau rice.
Ingredients
50ml/2fl oz olive oil
2 small onions, chopped
2 tsp ground cumin
2 tsp ground coriander
2 tsp mango powder
1 stick cinnamon, broken up
3 garlic cloves, chopped
1 red chilli, finely chopped
100g/3½oz fresh coconut, grated
400ml/14fl oz coconut milk
4 tsp tamarind paste
675g/1lb 8oz cooked lobster, meat removed and cut into large pieces
1 small bunch coriander, chopped
salt and freshly ground black pepper
Preparation method
In a large pan, heat the oil. When hot add the onions and fry for 4-5 minutes, or until deeply golden-brown. Add all the spices, garlic, chilli, fresh coconut and coconut milk. Bring to the boil, then add the tamarind paste and simmer for 3- 4 minutes.

Stir through the lobster meat. Cook until the lobster is warmed through, then sprinkle over the coriander and season to taste with salt and pepper.
Less than 30 mins

preparation time
10 to 30 mins

cooking time
Serves 2